Investors in Ukraine are expected to lose more than one third of their investment in a 10-year time frame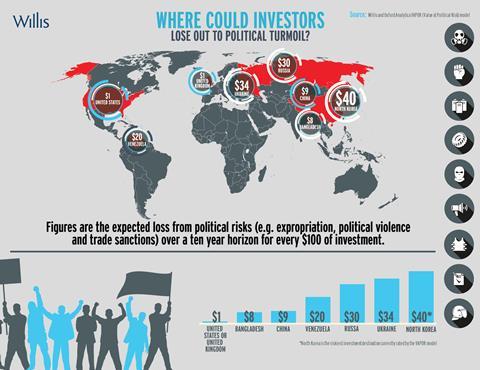 Investors in Ukraine can expect to lose $34 (€30.04) in every $100 (€88.4) invested over a 10-year time frame owing to political risks, according to Willis and international consulting firm Oxford Analytica's new political risk model, VAPOR (Value at Political Risk).
The model, launched today, enables multinationals to assess and compare the financial implications of exposure to a suite of political risks; in individual countries, regionally or globally. Initially, VAPOR covers six different political risk perils, across 11 industry types in 100 countries.
The snapshot findings suggest that companies can expect to lose $20 in every $100 invested in Venezuela over 10 years as a result of political risks arising from oil price volatility, political upheaval and the possibility of a sovereign default. Over the same period the expected loss in the US and UK, relatively low-risk jurisdictions, is $1 in every $100.
In Asia, investors in Bangladesh can expect a loss of $8 for every $100 invested over 10 years. Given the threat of government intervention, the estimated loss over the same period in China rises to $9 in every $100. In Russia, the figure is $30 in every $100 as a result of sanctions and heated trade tensions, making it the riskiest of all the major emerging economies.
North Korea is the riskiest investment destination currently rated by VAPOR. Companies investing there can expect an estimated political risk loss of $40 in every $100 invested over a 10-year period.
Oxford Analytica senior advisor, political risk, Sam Wilkin said: "Inspired by the catastrophe modelling industry, VAPOR takes a probabilistic approach that assesses whether a particular society is more or less vulnerable to experiencing a suite of discrete political contingencies over time and then estimates the possible cost, over time, of these contingencies to business.
"This gives businesses the ability to evaluate the costs of geopolitical risks when deciding in which industry and country to invest."