As climate litigation risk gathers momentum, John Firth shares the steps that companies can take to identify and reduce these risks.
Climate change-driven regulation and litigation have been gaining greater traction at board level in recent years.
Since 2015, when the Paris Agreement was signed, the number of climate-related litigation cases worldwide has more than doubled, according to a report by The Centre for Climate Change Economics and Policy and The Grantham Research Institute on Climate Change and the Environment.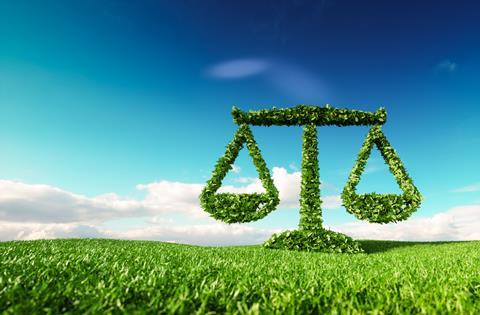 This trend is corroborated by research from the Geneva Association, London School of Economics and Clyde & Co confirming that a so-called 'third wave' of climate litigation – characterised by the expansion of litigation to more jurisdictions, increases in volume and pace, and new types of claims targeting the private sector – is well underway.
Just over 800 cases were filed between 1986 and 2014, and more than 1,200 cases have been filed in the last eight years, bringing the total to over 2,300.
That roughly one-quarter of these were filed between 2020 and 2022 indicates a clear acceleration in claims.
Liability risks arise from a range of areas, including failure to mitigate greenhouse gas (GHG) emissions, adapt to physical impacts, disclose climate-related risks, comply with changing legal and regulatory expectations, and consider future impacts on services.
Risk also arises from climate greenwashing, where an organisation's claims made about its green credentials do not match the realities.
The consequences of underestimating climate liability
By 2022, climate-related legislation had increased to 2870 new laws and policies (now estimated to be 3100 according to the Grantham Research Institute).
The pace at which the regulatory landscape is evolving is particularly evident in the UK, EU and Australia, where regulators have made clear they consider reporting properly on climate change exposures a key director responsibility.
Despite these trends, climate liability issues continue to be underestimated by many businesses. Failure to recognise the damage that can be inflicted on a company's reputation - its most valuable asset - is a high-risk strategy.
Fuelled by advancements in climate attribution science, companies should expect the number of successful claims to improve with time.
High-profile instances where companies have already faced climate liabilities include a Canadian renewable energy company filing a lawsuit against a multinational financial services company in 2021, after it had rejected force majeure declarations during a February winter storm and billed the energy firm over $100 million for replacement power when its wind turbines had to be halted during a deep freeze.
"These cases demonstrate the need for companies to understand how to improve their resilience and preparedness for climate-related liability risks."
In February this year, environmental activism organisation ClientEarth filed a case in the UK against the board of directors of a multinational energy company for failing to manage the material and foreseeable risks posed to the company by climate change.
The lawsuit alleged the organisation's directors breached their legal duties under the Companies Act by failing to adopt and implement an energy transition strategy that aligns with the Paris Agreement.
Although the case has since been dismissed, the action had the backing of a range of institutional investors and has set a precedent for future litigations against directors and officers.
These cases demonstrate the need for companies to understand their climate-related physical and transition risk exposure, and how to improve their resilience and preparedness for climate-related liability risks.
Also, while fossil fuels industries are currently the easiest targets for claims, climate change liability risks will inevitably extend to other commercial sectors, such as food and agriculture, fashion, transport, plastics and finance, as well as those who finance, advise and support those sectors.
Climate litigation - are you covered?
Increasing reporting obligations also mean that insurers, banks and asset managers must consider how their customers are contributing to the greenhouse gas emissions totals that they have to report.
If these risks aren't managed, these customers may find their businesses may become uninsurable and un-investable as a result.
Some insurers are already starting to introduce climate harm exclusion clauses on some public liability policies, a trend we expect to continue.
These clauses allow insurers to deny cover in the event of liability arising from negative impacts of climate change or instances where an organisation has failed to meet greenhouse gas emission targets.
"Risk managers and CFOs are well-advised to understand the range of climate liability claims that could potentially face their organisation."
Even where insurance policies don't explicitly exclude climate harm, the policy intent to not cover liabilities around climate change may be implied.
The response of insurance markets will be of particular interest to certain industries, such as the carbon-intensive energy sector, including those transitioning to renewable energy.
Organisations already operating in the renewables sector will want to keep abreast of how climate liability is impacting energy sector peers.
As well as having clarity over policy wordings, risk managers and CFOs are well-advised to understand the range of climate liability claims that could potentially face their organisation.
Commentators have already reported on the demise of companies due to climate change, with many also anticipating these earlier cases were just the beginning of more businesses failing due to climate liability costs.
How to understand future exposures
Carrying out a climate liability risk assessment can be a starting point for a company to understand their current and potential future climate liability risks.
They can also reveal the financial impacts of both physical climate risks and transition risks.
Jargon buster
Physical climate risks are those arising from extreme events such as wildfires, storms, and floods; and from incremental changes such as sea-level rise, changes in precipitation and temperature; together with the indirect consequential changes in other systems.
Transition risks are those emerging from policies, and regulatory or market responses to transition the economy away from fossil fuels.
Liability assessments can consider the unique features and commercial landscape specific to a business model.
This can give an organisation the opportunity to test and improve its resilience and preparedness, helping to outline the next steps to reduce exposures or where it might be possible to transfer specific risks.
These exercises can also incorporate climate scenario analysis to direct longer-term strategy and how to manage climate risks over extended time horizons.
Turning climate liability risk into a strategic opportunity
Getting ahead of climate liability risk can not only help manage insurance costs but also uncover new competitive opportunities.
By using risk management tools like scenario analysis and analytic modelling, it is possible for a company to understand which slow-onset and severe climate events are now within the realms of predictability, checking the outcomes of these scenarios against their current business model, as well as their cover and/or contracts before disputes arise.
Assessing potential climate liabilities also represents a chance to interrogate a firm's existing business continuity planning. This can narrow the openings where competitors could potentially steal a march in the event of disruptive, climate-related claims.
"Now is the time for companies across all industries to revisit their business models and assess their exposure"
As targets and legislation become embedded, this not only heightens the risk of climate litigation, but increases the expectations on companies.
The number and type of climate-related claims are increasing worldwide, putting organisations, governments and individuals under pressure to do their 'fair share' to mitigate climate change and adapt to its inevitable consequences.
Now is the time for companies across all industries to revisit their business models and assess their exposure - both retrospective and future - to climate-related litigation, as this is a trend set to continue.
John Firth is Senior Director, Climate and Resilience Hub, at WTW.