How Smith aims to meet the aspiration of Airmic's members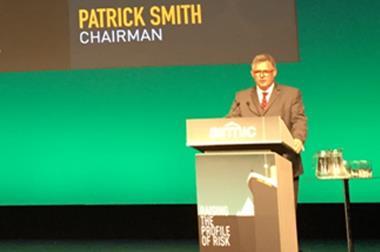 What are your plans as Airmic's new chair?
My overarching aim will be to drive continuity and momentum. Airmic has travelled in a very positive way over the years. It has a clear strategy around recognition of the profession and providing robust technical content to members. So, if I were going to have a particular focus, it would be to ensure Airmic becomes the best membership organisation it can be; in other words, 'best in class'.
To do that, Airmic must recognise and respond to the needs and aspirations of its members today, but it must also look ahead to the future. It must recognise the changing world of risk and insurance management so that it can understand what its membership may look like in terms of profile and what its members will require in the future. By doing so, the association can then ensure that everything it does resonates with every member at every stage in their career.
Why are continuity and momentum so important?
Continuity is needed to ensure that Airmic carries on delivering against its strategic plan and vision. Airmic currently does a number of things very well and it is critically important not to loose that traction.
Momentum is about moving forward. In the past 10 years, momentum has been established and has helped to drive forward many initiatives.
I want to ensure that, as a board member of Airmic, and certainly in my year as chair, the association continues to move forward.
How are you going to ensure that Airmic meets the needs and aspirations of its members?
Risk management is increasingly attracting boardroom attention and there is therefore no better time for current and future Airmic members to have career aspirations in risk and insurance. The focus on risk is increasing because some of the biggest risks in the corporate world are uninsurable and responsibility for risk and how it is managed sits firmly in the boardroom. If businesses look to tackle these risks with insurance as the only tool, gaps in insurance will be identified. As a result, conversations about whether the insurance industry is innovative enough or adequately responding will obviously continue. That, however, is only one perspective. The other view is to accept that to be successful, businesses will need to take risks, and although some will be insurable, some of them will not. Actually, risk appetite, identification, assessment and management come first, and risk transfer as a potential solution is a later consideration.
In a digital and virtually connected world, reputation can be damaged in a split second. Further, businesses rely more and more on data. Data risk has indeed increased and some businesses could perhaps be on the cusp of a data catastrophe. This would undoubtedly affect a company's reputation and, for sure, insurance has a role to play here. However, it is absolutely critical that organisations have a high-level view of the risks and threats as well as a resilient, robust and structured risk management framework.
I see our member and Airmic's membership of tomorrow wanting to be part of that strategic and material risk conversation as well as the discussions about the more traditional roles such as designing an insurance programme and establishing what risks to retain and what to transfer.
What else is in the pipeline during your tenure as chair?
Research and thought leadership are central to our strategy. Airmic has done this effectively in the past and will continue to do so. The many reports published at the conference are great examples of this. For instance, Airmic has published a guide on how to implement some of the lessons from Roads to Ruin and Roads to Resilience at the conference. Airmic has to support its members to turn theory into practice. Risk managers are employed by their organisation as practitioners, not a theorists. As an Airmic member myself, what I value is the practical advice, guidance and support that enables me to get things done and make a tangible difference for my company. Airmic will therefore continue with developing thought leadership and education and is committed to giving its members the essential tools of the trade.
As chair, I will be focusing on how Airmic communicates with its members and we are in the initial phases of designing and launching a new website. The association wants to drive virtual engagement with its members. Embracing the fact that we now live in an electronic world and understanding that there is an expectation to network virtually, it becomes important to create cutting-edge communication to compliment the face-to-face workshops, lectures and academies that Airmic offers. By doing this, Airmic will be able to widen and deepen membership engagement, assuring its importance for the future.