Organisations must place well-being, inclusivity, and social good at the heart of their benefits packages - here's how
The world of work is transforming and employees' expectations around benefits and reward are changing with it.
A new report, The Future of Employee Benefits: 2030, created by Zurich Integrated Benefits, finds that key trends such as remote working mean that employees have never been more discerning about their benefits packages.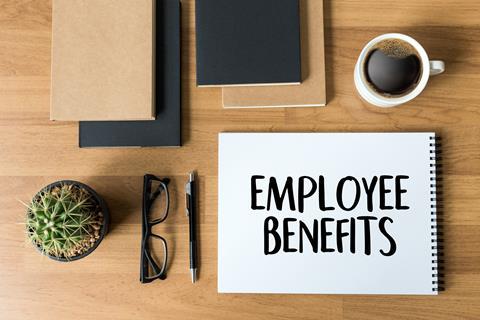 They want more flexibility and greater purpose from their employers. They don't just want pensions and holidays — but also social, financial, mental, and physical wellbeing.
Consequently, the one-size-fits-all benefits package is no longer fit for purpose.
Instead, employers should consider adopting a human-first approach to benefits that facilitates choice, promotes transparency, and aligns with the values of their employees.
"The one-size-fits-all benefits package is no longer fit for purpose."
The report explores what the benefits landscape might look like in 2030, examining key areas including well-being, personalisation, empowerment, and impact.
Here are the key learnings for organisations, which can help them transform their benefits strategies, tackle people-related threats, and win the war for talent:
Personalisation
Employees in 2030 will seek benefits that naturally fit in with their unique working and life requirements.
With tomorrow's workforce set to be more diverse than ever, corporations will be tasked with providing and pre-empting choice for cross-generation employees – offering human-first benefits that are meaningful and tailored to fit the person, not the role.
Key data
PeopleKeep research found that while 65% of employees value the ability to choose their benefits, only 36% feel they have a say in their benefits package
Accenture research shows that almost two thirds (62%) of employees would exchange their work-related data for more-customised compensation rewards and benefits
Half of UK employees would sacrifice some of their salary for personalised benefits, while almost seven in 10 (69%) people would work harder for an organisation that provides tailored employee benefits to support their individual needs (source: MetLife)
• At present, only 21% of employees feel that the benefits provided to them align very closely with what is important to them (source: Benefex)
When considering personalisation, Zurich says businesses should:
Offer end-to-end flexibility
Multiple, nuanced, and diverse living and working structures will soon be operating simultaneously across organisations. Consider how benefits packages will be required to change to this same flexibility.
Promote end-to-end Inclusivity
Inclusive benefits must comprise a key component of an organisation's DEI strategy. Consider how you can ensure your providers are addressing needs across age, gender identity, sexuality and race.
Ask yourself: How could an employee-led benefits committee ensure everyone is heard?
Unlock the power of data
Consider how data could be used to create a self-sufficient benefits systems, able to suggest and select perks based on employees' unique needs and characteristics.
Ask yourself: How will we enable trusted data models that streamline the process for all, giving employees what they truly want and need?
Well-being
In the employee landscape of 2030, health and wellness will no longer be a siloed benefits perk; employees will expect organisations to embody and protect their well-being through every aspect of the employee experience.
Here, prevention will take precedence over cure, with individuals seeking tailored, intuitive, and embedded adjustments, where well-being is recognised holistically as complete care for an individual's quality of life.
Key data
Achievers Workforce Institute (AWI) research found that in Australia, Canada, the US, and the UK, nearly half (47%) of HR leaders say their company supports workers' well-being, while fewer than a quarter (24%) of employees share that sentiment
Burnout is on the rise across the globe, now affecting 42% of the workforce and according to a recent survey knowledge workers reported 40% more work-related stress and anxiety, 20% worse work-life balance, and 15% less job satisfaction in the past year (source: Future Forum)
Providing ample well-being support is key to positive employee experiences. Those who feel their organisation prioritises their well-being are 69% less likely to search for a new job and five times more likely to advocate for their organisation, while almost three quarters (71%) are less likely to experience burnout (source: PandoLogic)
When considering well-being, Zurich says businesses should:
Offer balance in Bleisure time
Business-meets-leisure (Bleisure) trips will be reframed as a fully fledged contribution to wellbeing. Consider how you can forge a global eco-system of Bleisure-friendly employers, able to trade working lives and locations as part of a benefits package, while remaining a part of the organisation.
Become life stage partners
Employers will be expected to provide formalised benefits for employees across a range of life stage needs rather than 'special adjustments'.
Ask yourself: How can I create a benefits suite that, instead of an annual selection, adapts to employee needs on a daily basis – reflecting the realistic and natural rhythms of human life?
Harness technology to implement preventative and personalised wellbeing
Look to the increasing sophistication of wearables, apps and smart technology to explore how health and wellbeing benefits can function intuitively.
Individuals are willing to trade data for personalised and seamless experiences, but employers must action clear and transparent data policies to ensure optimal implementation.
Empowerment
Amid the democratisation and decentralised decision-making of the working world, the employees of 2030 will prioritise autonomy in every aspect of their employment: seeking to be empowered, not held back by their employer.
Future benefits will be tasked with nurturing employees' careers and lifelong ambitions away from just their current job roles, creating packages that help future-proof their lives.
Key data
Oliver Wyman research found that almost half of Gen Z in the UK and US are already engaged in work outside of their employment; 45% of respondents say they have a side line
In the US, almost two thirds (65%) of Gen Z employees say companies should help improve their financial wellness and about half of employees expect their work to provide access to financial advisors (52%) and retirement planning tools (46%) (source: TIAA Morgan Stanley)
Over two thirds (67%) of Gen Z workers say they have already worked in a Decentralised Autonomous Organisation (DAO) or are considering doing so (source: Adecco Group)
When considering empowerment, Zurich says businesses should:
Future-proof employee skillsets
Upskilling will form a key tenet of the future of work. Consider how educational benefits can strengthen employee engagement while providing a vital resource for wider career longevity
Promote financial independence and literacy
Providing employees with financial advice and literacy uncouples financial progress from an employers' discretion. Consider how you could provide financial security for employees beyond their time at one organisation.
Offer purpose beyond promotion
Organisations will be tasked with providing benefits that do more than take care of their employees - future generations will expect employers and their offerings to facilitate their life's purpose beyond work.
Impact
By 2030, organisations will be stepping in where governments are failing and acting as forces for good in society.
Future employees will need their employers to act as educators and enablers, providing tools and inspiration for a purpose-first future.
Key data
LinkedIn research found that almost nine in 10 (87%) of Gen Z professionals in Europe would be prepared to quit their jobs to work elsewhere if the values of the new company were more closely aligned
Contributing to society and creating meaningful work are the top two priorities of employees, with 70% of employees defining their purpose through work (source: McKinsey)
Almost half (43%) of younger employees were set to look for a new job if employers didn't increase their ESG activity in 2022 (source: Robert Half)
When considering impact, Zurich says businesses should:
Offer choice through transparency
With organisations tasked with offering end-to-end sustainability, employees will expect oversight on the ethical standing of their choices.
Ask yourself: How might we create an ethical score card for our offerings to enable choice and security?
Facilitate and supplement sustainable practices
Employees will expect benefits that formalise and strengthen sustainable training and commitments.
Ask yourself: How can we allow individuals to make seamless contributions to sustainable causes they care about, provide employee carbon-offsetting through a streamlined portal or even reward individual staff efforts?
Align benefits with employee values
Employees are demanding purpose-driven organisations, and benefits must be an extension and expression of a company's mission and values.
Employers must take a dynamic and iterative approach to benefits, swapping out benefits that conflict with company and workforce values, and allowing employees a voice in benefits decision-making.