The future is now, as roads converge on digital revolution, Airmic's chief executive John Ludlow tells StrategicRISK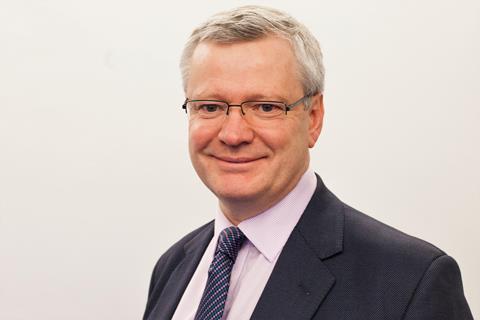 John Ludlow has just finished writing the foreword for his "Roads to revolution" report, about the role of technology in risk management and business, prepared ahead of the Airmic 2018 conference. The event is being held in Liverpool 11-13 June, with a tech flavour of "The future is now" to match the report, which Airmic publishes in association with Cass Business School.
"The theme for this year's annual conference is about emerging technology and change," says Airmic's CEO.
Ludlow notes the commercial reality – a reflection of the roads to digital revolution – that FTSE250 firms in the UK these days have far more intangible assets to manage and insure, like online businesses, cyber risks, supply chains and reputational fallout, than they do physical assets like office blocks, real estate and bricks and mortar.
"My reflection is that for many years we've been saying it's coming, but the fourth industrial revolution is already upon us. The tidal wave of increased use of technology is hitting us now, and now is the time to do something about it," Ludlow adds.
Ludlow highlights the exponential pace of digital change, with multiple tech trends – big data and analytics, the internet of things, data analytics, integrated automation and artificial intelligence – accelerating and converging on what is becoming known as the fourth industrial revolution. "Everything connects and is interconnected," says Ludlow.
There are warnings in there too, about the changing relationship between man and machine, transforming from enhancement to dependence upon technology. The speed of the digital revolution, the adoption of its technologies, and the opportunities they offer, mean "unintended consequences" for risk managers.
"Faced with such fundamental and profound change and uncertainty we must assess the risks, identify strategies, implement change and monitor and review. That is what we do."
There is a worrying tendency for risk management to be left out in the cold when innovation is being discussed, Ludlow thinks. It can be seen as a barrier to trying new things, retarding progress and the taking of risk. "You sometimes hear 'This is innovation. Risk, get out of the room!'" Ludlow suggests.
He has a stark warning for risk managers in dealing with business leaders when it comes to being part of the decision-making progress on adopting emerging technology.
"Risk needs to work hard to make sure everyone understands it's aligned with the vision of the company," stresses Ludlow. "You've got to demonstrate that you're a key player, that you're willing to embrace risk, to be part of the change programme, and not to resist it, that you're happy to support the company to take risk. Otherwise they don't want risk in the room while they're innovating, and that's a cultural issue," he says.
This year's conference in Liverpool covers a range of current topics – tech talks, Brexit, leadership, geopolitics – there is even a jazz quartet on the third day, offering lessons in improvisation and innovation.
Ludlow is keen to broaden the partnerships Airmic makes, for the benefit of its insurance buying membership, as well as risk managers, to include more than just insurance companies and insurance brokers, but also more technology and educational partnerships.
"Risk already is relevant, but I think for insurance to remain or become more relevant in the boardroom, we need to diversify ourselves, in our membership and partners," he says.
On the topic and converging themes of social media, data and analytics, and crisis management, he notes in the wake of this year's Facebook and Cambridge Analytica data scandal the double-edged sword that data are enabling companies to know much more about their customers, but also much more accountable to their customers through social media.
"It comes back to your stakeholders. To be successful, you've got to be stakeholder led, and to be cognisant of stakeholder feelings. If you bat on regardless, they do have the ability to respond and you might face a backlash," notes Ludlow.
He reflects that all it takes are empowered stakeholders for an event to blossom into a crisis. "A crisis might only be a serious incident until somebody with the power to retaliate gets hurt. What's different about oil spills in the Niger Delta and oil spills in the Gulf of Mexico. It's the ability of stakeholders to wreak revenge, and social media is a channel that empowers them. Other stakeholders now have a voice, and they can join up and retaliate," Ludlow says.
Reputational risk is higher up the risk register this year, he thinks. "There are two drivers for that: one is social media; and the other is what happens to a company's cashflow when support is withdrawn," he says.
Firms are perhaps more vulnerable to sudden shocks than they used to be. "Companies are much more leveraged than they used to be, their assets are much more intangible, and they are more vulnerable to a cash flow failure. That's a triple whammy causing a lot of the issues we see today," Ludlow adds.