Chinese capital hit by heaviest rainfall in 60 years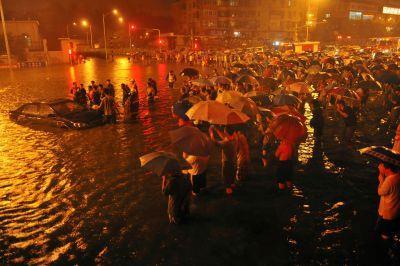 Thirty-seven people have died and thousands left stranded after Beijing experienced the heaviest rainfall to hit the Chinese capital in 60 years.
The deluge caused flooding to major roads, roof collapses and electrocutions from fallen power lines, as 65,000 people had to be evacuated by Sunday evening.
The rain arrived on Saturday afternoon and continued through the night, resulting in delays and cancellations to more than 500 flights from Beijing's primary airport.
Some 460mm fell in Beijing's Fangshan district, while the capital overall averaged 170mm, according to state news agency Xinhua.
Pan Anjun, deputy chief of Beijing flood control headquarters, said that around 1.9million people were estimated to have been affected by the rainfall, with losses predicted to be in the region of 10bn yuan ($1.5bn, £960million).
A further 17 people are missing and 8 dead outside the capital, Xinhua claimed.
An apparent lack of warning and appropriate response measures have angered many Chinese, according to critical comments left on the Internet.