FM Global and Arthur J Gallagher on top in StrategicRISK survey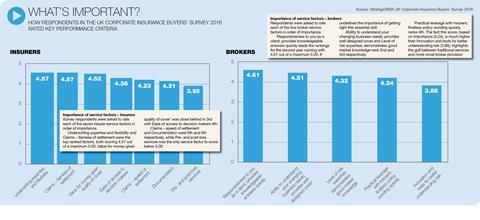 The UK's leading corporate insurers and brokers have been ranked and rated in the latest StrategicRISK UK Corporate Insurance Buyers' Survey 2016.
FM Global and RSA come out as the leading insurers while Arthur J Gallagher heads the broker rankings.
But the survey findings reveal far more than just the numerical positions of main the providers, they also provide a detailed snapshot of the current state of the market.
In essence, major insurers and brokers are in a fight to stay relevant to their large corporate clients.
While most appear to be providing a solid and dependable service in terms of the more traditional facets of insurance, there is a consensus that many are generally working within, rather than beyond, expectations and face challenges in terms of their future provision.
This is one of the key findings to emerge from the survey which was undertaken by StrategicRISK among a cross-section of leading insurance buyers and risk professionals from FTSE100 companies and those of equivalent size in private ownership in Q3 2015. Ninety large corporate insurance buyers completed the survey.
Among the businesses represented, the needs of each individual company vary widely. Nonetheless, some overall conclusions can be drawn about the state of the UK insurance and broking industry in relation to large corporate clients
Changing risks
If this was a school report, it would likely finish with a note from the headmaster saying "Could do better". Whether this might be construed as "must try harder" is perhaps a moot point, but one that is certainly identified and raised by several respondents to this survey.
There is some justification for both these views. The risks are changing – sometimes very quickly – but the policies offered by many major insurers are simply unable to keep pace. Often, they are too inflexible and, arguably, outdated.
Respondents want "better understanding" from insurers to meet their needs. One urges insurers to "live in our shoes".
Many respondents consider that insurers need to offer more to clients, whether in terms of new policies, different coverage or simply knowledge.
The word "innovative" was not used as much this year as in the previous StrategicRISK survey of this type at the start of 2015, but, nonetheless, there is a general feeling among UK corporate insurance buyers that insurers must be more forward-thinking and creative.
But they do not want innovation for the sake of it. "Try to think about what our issues are and work with us in a collaborative way to solve them rather than taking a product from a shelf and trying to convince us that we need it," says one respondent.
Comparing insurers, the top six from 2015 also take the first half a dozen places this year, albeit in a different order.
FM Global stays top
FM Global retains its No1 position and by some considerable margin once again.
For this 2016 survey, FM Global scores an average 4.60 out of a maximum of 5.00 and is the only insurer to score above 4.00. But while FM Global's achievements in the 2016 survey are impressive its position must be seen in the context of being a specialist property insurer.
RSA (3.97) switches places with the newly named XL Catlin (3.90) to reverse last year's 2nd and 3rd place order. Allianz (3.85) drops one place to 4th while Zurich and AXA hold on to 5th and 6th place respectively. At this point, there are significant differences. AXA is equal 6th with Aviva, which jumps from 12th last year and QBE, which rises four positions.
Chubb and ACE – which will be one entry under Chubb next time – show just how well matched they are, finishing 9th and 10th with just 0.02 ranking points separating them.
And the two are also almost indistinguishable when compared by individual service factor scores. Liberty is the one new entry among the 13 insurers ranked and is positioned =10th with HDI-Gerling.
AIG is the main surprise in the ranking table, falling to 13th from 7th place in 2015. But AIG's score of 3.63 is only fractionally short of HDI-Gerling, Liberty, ACE and Chubb. Just 0.06 average score points separate these five insurers so AIG's position should be seen within this context.
Also, when respondents were asked to name insurer(s) they were considering placing business with for the first time, and/or upscaling business with, in the next 12 months, AIG is mentioned more than any other insurer, except Allianz.
For brokers, while the market searches for ever more sophisticated solutions to increasingly complicated risks, the survey results show that a "back to basics" approach is likely to be the most effective way to best serve clients' needs.
In essence, UK corporate insurance buyers want brokers to concentrate on the traditional elements of broking – and service them well.
One respondent said: "We have re-set our expectations – what we are looking for now is 'just' excellent delivery of core broking services. And by that
I mean robust, comprehensive processes and procedures for renewal, placement and in-year administration."
This respondent goes on to explain: "In the past I have been guilty of distracting the broker with requests for a wider set of risk management requirements.
"In reality I want them to focus on (i) making sure the big claim gets paid, (ii) obtaining the widest cover needed at the best price and (iii) minimising the administrative burden."
Gallagher's turnaround
This year, the leading broker in our survey is Arthur J Gallagher, based on rankings. The result is interesting for two reasons.
First, there has been a sea change in Arthur J Gallagher's fortunes compared with the 2015 survey, where it ranked 6th out of seven. Secondly, its position at the top of the 2016 ranking flies in the face of respondents who bemoaned the growth of the "mega brokers".
With an overall average score of 4.34 out of a maximum 5.00 measured across all service factor criteria, Arthur J Gallagher moves ahead of last year's top ranked broker JLT, which scores an overall average of 4.10, and Aon, with 4.04, which moves up from 5th last year. These three beat or equal the all-broker general service factor average for 2016 of 4.04
Willis, 7th in 2015, is 4th this time with 3.91 and Marsh props up the list of five with 3.82, down from 3rd last year. Brokers and insurers needed to be scored by a minimum of 10 insurance buyers. As such Lockton, which ranked 2nd overall in 2015, and Miller, which ranked 4th, do not appear this year.
It is evident that a broker's success is largely determined by the quality of its teams. But with teams regularly moving between brokers, it remains to be seen whether or not the rankings will be the same the next time the survey is undertaken.
To purchase The UK Corporate Insurance Buyers' Survey 2016, contact Tom Byford:
email tom.byford@strategic-risk-global.com or tel 020 7618 3081