Australia Post's Susie Jones was discussing "managing risk in an agile, digital world" at Risk Forum APAC 2018 in Singapore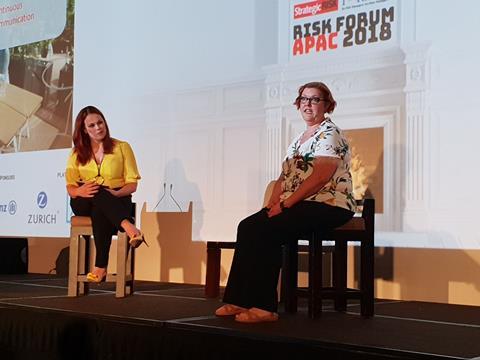 Existing risk management tools can leave the risk manager ignored and considered as an inflexible impediment to business amid an increasingly agile business environment, Australia Post's Susie Jones.
Susie Jones, head of cyber security business services, Australia Post, was discussing "managing risk in an agile, digital world" in a fireside chat with StrategicRISK's Asia Pacific editor Lauren Gow, at the Risk Forum APAC 2018 held in Singapore this week.
"I never want to be told I'm part of the business impediment team again!" said Jones.
She admitted this had not just been a misperception, but a genuine lesson learned about the utility of risk management in the business, particularly as digitisation drives the speed at which the business operates.
Australia Post is an Australian government-owned corporation providing postal services locally and internationally, as well as operating retail outlets.
Jones questioned the utility of risk appetite statements, reviewed every year, as useful tools by the business.
"I agree with her, in that I'm not sure if they work," said Bee Yen Neo, enterprise risk manager for Jurong Port in Singapore, speaking with StrategicRISK at the event in Singapore.
"If people only take a look at it every year when it's due for review, then it's not a useful risk management tool," said Neo.
The question is whether risk appetite statements are used to help achieve business objectives, or "just as a box ticking exercise" typically undertaken as an internal data requirement.
"Everyone does it, but the business hardly ever opens it up. We must try to make risk management practices not just a tick in the box but integrated inside the business, otherwise risk management is a just less relevant support activity," Neo warned.
"We have to be mindful that some places see risk management as an internal audit function, there to check up on the business, and to prevent it from carrying out certain activities," said Neo.
"Risk managers need to constantly engage, talk to the business, and understand what they're doing, so that they'll be more open," added Neo.
Jurong port handles general cargo and bulk carrier vessels bringing cement and steel into Singapore. The port is increasing use of automation to handle cargo, Neo explained.
"We're working together, between operations and workplace safety on processes to drive efficiency and safely unloading goods," Neo added.