Corruption is rife around the world, but larger companies are no longer turning a blind eye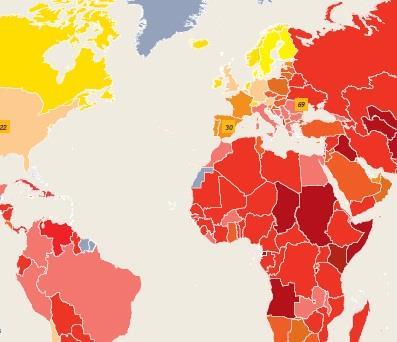 According to Transparency International's (TI) latest corruption perception index nearly three-quarters of the world has a serious corruption problem.
"These results signal that significantly greater efforts must go into strengthening governance across the globe," said TI chair Huguette Labelle.
Despite this, most risk managers recently surveyed by StrategicRISK in the Risk Report 2011 said that corruption is becoming rarer in large companies because of the need to comply with legislation, coupled with fears of the damage to reputation and potential penalties that would almost certainly result from being found out.
The USA's Foreign Corrupt Practices Act has been ensnaring miscreant companies far beyond American shores for years. And now, with the UK's even tougher new anti-bribery regime being enforced, companies have even fewer places to hide (for detailed information on the Bribery Act go to strategic-risk.eu).
No international trading operation is immune from America's main agent, the Securities and Exchange Commission (SEC), which is now much more powerful and better-funded than it was before the Madoff scandal of 2008 revealed its weaknesses. The SEC is also involving similar international authorities, such as the UK's FSA, in its pursuit of off enders much more than it has done previously – as Italy's energy giant ENI and Germany's Daimler discovered.
ENI and its former Dutch subsidiary Snamprogetti were fi ned $365m (€258m) last year for violations of the act a er bribing Nigerian offi cials. "This elaborate bribery scheme featured sham intermediaries, Swiss bank accounts and carloads of cash as everyone involved made a concerted eff ort to cover their tracks," says SEC Division of Enforcement director Robert Khuzami.
"But the billion-plus dollars in sanctions paid by these companies show that ultimately there is no hiding or profi ting from bribery." (The unseemly scramble for Nigeria's oil and other assets has netted the SEC no less than $1.28bn in sanctions.)
ENI, which used a UK solicitor among other go-betweens to pay Nigerian offi cials through secret bank accounts, did not respond to StrategicRISK's request to explain how it had reformed its governance procedures in light of the fi nes. As for Daimler, its $91.4m disgorgement penalty – not counting $93.6m in fines on related charges – was for 'a repeated and systematic practice' of bribing government offi cials across half the world.
NB: The CPI is a composite index, drawing on 13 different expert and business surveys. Source surveys for the 2010 CPI were conducted between January 2009 and September 2010.