Often seen as a bit of a laggard in the race for automation, Germany's construction and engineering industry is making up for lost time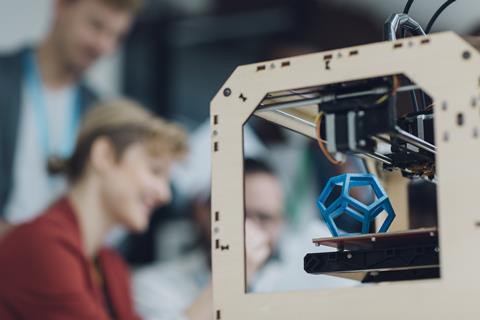 One of the biggest challenges facing the construction industry in recent years has been a growing skills gap. In Germany, up to two-thirds of construction firms are finding it difficult to find suitable talent, according to research by the European Commission. One way of closing the gap, as the competition for skilled architects, engineers and computer specialists increases, is the use of new technology, including robotics, drones and 3D printing.
Embracing the digital age is also expected to attract younger talent, with millennials, which is increasingly essential given the aging workforce. In 2016, 10,784 new construction apprenticeship contracts were signed, compared to the 13,500 workers that retired in the same year, according to research from Die Deutsche Bauindustrie. The ratio of apprentices to skilled workers was 8.7 in 2014, below the critical value of 10.
At the heart of digital innovation within the sector is Business Information Modelling (BIM), which is becoming a key aspect of the front office processes associated with new projects. According to Swiss Re Sigma, BIM is either already in use or being tested by the majority of construction firms and can contribute towards mitigating construction risks in a number of ways, including:
Planning for and operating safer buildings. A set of rules, based on compliance regulations and safety-related best practices, can be formulated and coded into BIM software.
Helping to limit the chance of negative project events. BIM systems, integrated with construction management software, can streamline cost and time estimation of jobs and reduce or eliminate delays.
Creating a digital 'memory' of the building. BIM can record all aspects of history and operation, including problems which have occurred in the past and how they were resolved.
Case study: 3D-printing takes off
3D printing, also known as additive manufacturing, is an emerging technology in which Germany is developing a distinct competitive edge. From spare parts for the automotive sector to aircraft components and consumer goods, 3D-printing technology can be produced quickly and inexpensively with the added benefit that items can be more easily personalised.
German chemical giant BASF is among the organisations taking significant strides forward in additive manufacturing and is collaborating with a growing network of organisations in an effort to take the applications of 3D printing beyond the prototype phase.
"The field of 3D printing for industrial applications is highly dynamic and still emerging," said Volker Hammes, Managing Director at BASF New Business and future Managing Director of BASF 3D Printing Solutions GmbH, in a statement. "This means there is a need for agile, startup-like structures with interdisciplinary teams and quick decision-making processes."
3D printing offers a good blueprint for other digitalisation activities in smart factories, according to Michael Bruch, head of emerging trends at Allianz Global Corporate & Specialty, and raises some important questions surrounding product liability. "There are challenges when are you actually automating a process which has previously been operated by human beings. There are a lot more new players involved in this new manufacturing process."
"With 3D printing you have the product designer, who does the coding of what has to be printed, and then you might have an internet sales platform," he continues. "You have the manufacturer of the 3D printer, and you have the operators. So you can imagine if something goes wrong it's very hard then to trace back who was actually liable for this unsafe product that has been manufactured."
"The other big question around liability risks linked to 3D printing is the question over whether software or coding can be defined as a product," he adds. "I know that in Switzerland for example they classify even the software for a 3D Printer for medical devices as a product and that means that someone who is writing the software or doing the coding is responsible to recall if it turns out to be unsafe. But that's an extremely challenging and difficult process to exercise."