Climate change is already here - so what now? Learn how organisations can start meeting the challenges head on and turn risks into opportunities
When it comes to climate, it's not a case of 'when' the world will change. It has already happened and the effects are devastating.
But the path to net zero is not easy, and as recession competes for board attention, we're running out of time to make the planet our top priority.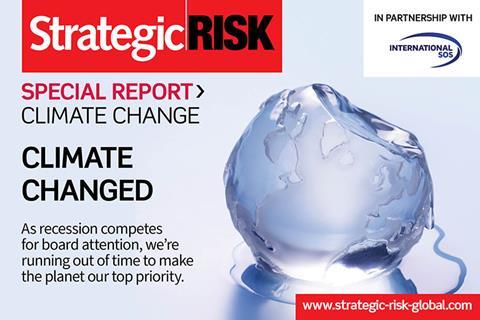 Our special report, in association with International SOS, outlines the results of our annual survey.
We found that while businesses are taking compliance seriously they are falling short on funding, let alone real action.
Our analysis of the results examines how risk managers can light a fire under such tepid board engagement and turn climate into an opportunity.
Alongside the survey, you'll also find step-by-step guides, expert advice and a case study from an organisation that's ahead of the curve. Articles include:
TIME FOR A PRIORITY CHECK - Our survey shows stalled engagement. How can we rev up the board on climate risk?

LEAD THE WAY - Why the path to net zero needs the enterprise-wide purview of the risk manager.

SUSTAINABILITY STRESS TESTING - An in-depth case study on Prysmian Group explores how it is integrating TCFD into its ERM framework.

WHAT'S YOUR PLAN? Our expert from International SOS breaks down how to create your own climate risk action plan.