Asa Gibson, senior reporter, has been awarded Young Financial Journalist of the Year 2014 by the Wincott Foundation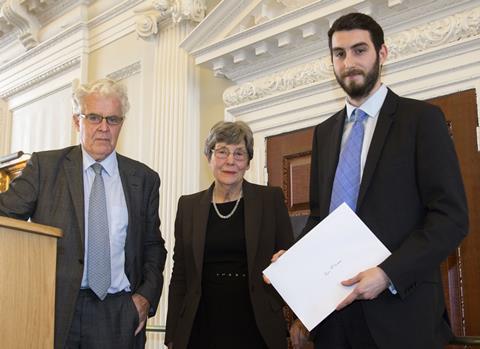 StrategicRISK senior reporter Asa Gibson (right) has won the Wincott Foundation Young Financial Journalist of the Year Award 2014, and picked up his prize at a special ceremony held at the Mansion House. Other winners included journalists from the Financial Times and BBC Radio 4.
The Wincott Foundation was set up in 1969 in honour of Harold Wincott, a distinguished economic UK journalist in the 1950s and 1960s. The foundation seeks to contribute to a better understanding of economic issues, principally by supporting and encouraging high-quality economic, financial and business journalism in the UK and internationally.
On announcing the award winner, Wincott Foundation chairman Sir Geoffrey Owen said: "The judges said [the award winner's] authoritative writing suggests a maturity well beyond his years. The judges were particularly impressed by his forensic analysis of the risks of Bitcoin and, with a little-noticed aspect of the disappearance of Malaysia Airlines Flight MH370, how social media has overturned traditional approaches to crisis management."
StrategicRISK editor Mike Jones added: "The Wincott Foundation Young Financial Journalist Award has a history of recognising talented writers at the start of their careers who become well known and highly respected figures. Robert Peston and Stephanie Flanders are among an impressive roll call of journalists to have won this award previously, almost all of whom hail from The Economist, the Financial Times or other national newspaper broadsheets.
"For a specialist title such as StrategicRISK to be considered for this award is, in itself, remarkable and testament to Asa's skill and conviction as a writer."