Increasing industrial action across Europe is placing further strain on public sector risk managers, already hit by budget cuts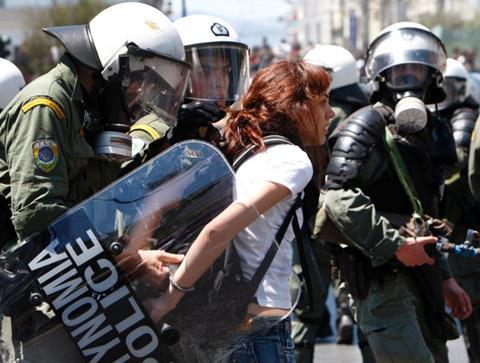 When the financial crisis first hit in 2007, every EU member state, with the exception of Greece and Portugal, had a budget deficit below the -3% threshold agreed under the Maastricht Treaty. Currently, only Finland, Luxembourg and Estonia can claim as much after the solvency of banking systems and entire nations was put
into question, causing debt refinancing costs to surge across the globe.
The majority of eurozone nations' budget deficits peaked sometime between 2009 and 2010, and have subsequently decreased owing to the execution of government austerity programmes in return for financial assistance from the European Central Bank (ECB). Government departments have been seized upon as primary sources of efficiency savings, and public sector workers across the continent have exercised their right to protest against what they believe are unfair cuts to jobs, services, pensions and salaries.
"In essence, the public sector has been at the core of how governments have tried to react to the financial crisis," says Pepe Egger from specialist intelligence company Exclusive Analysis' Berlin office. "The extreme version of this is Greece, in terms of the things the government has had, and still has, to do to bring its finances under control. The country has seen tens of thousands of civil servants laid off and the adoption of salary cuts of up to 30%-40%, cuts to bonuses, cuts to holiday payments."
When Greece's budget deficit peaked at 15.8% in 2009 and with a debt-to-GDP ratio of 159%, the 'troika' of international creditors (the EU, the International Monetary Fund and the ECB) demanded swathes of austerity measures in return for a €240bn bailout fund. The country's economy has subsequently contracted by 18%, and 1.26 million people are now unemployed.
However, Greece is not the only eurozone country with refinancing issues, and the EU Fiscal Compact has committed signatories, including Greece, Italy, Spain and Portugal, to reduce budget deficits so debt-to-GDP ratios fall below 60%.
Governments across the continent have applied themselves to cutting the public sector as one of the primary means of deficit reduction. However, the sector is fighting back.
In the past few years, public sector industrial action has taken place in countries including Greece, Spain, Italy, and the UK, and it is intensifying. On 14 November, millions of workers joined in the first joint labour action across countries that have suffered from the worst of the continent's debt crisis. The most violent protests took place in Spain, where police fired rubber bullets at demonstrators and made more than 80 arrests. In Italy, anti-austerity protestors burned cars in Rome, forcing riot police to fire tear gas to disperse the crowds. Meanwhile in Greece, thousands of workers went on strike for the fourth time in three weeks, to protest against a government bill committing to cuts and tax increases worth €13.5bn in return for a €31.5bn bailout instalment from international creditors.
The European Trade Union Confederation (ETUC) said that 40 unions in 23 countries had taken part in the 'European day of action' and issued the following statement: "The ETUC strongly opposes the austerity measures that are plunging Europe into economic stagnation, recession, and dismantling the European social model. These measures, far from restoring confidence, are only aggravating imbalances and creating injustices."
According to Egger, there is little sign that government austerity drives are about to change course. "If we look into the future, we have to assume that we will see a lot more civil unrest, merely because if we see a central European bank continue giving assistance to southern European eurozone countries, it will do so in return for austerity - deeper austerity. And I see this being for the next few years, because there is no growth engine in sight.
"As long as governments stick to austerity and to these reforms, the public sector will remain at the heart of the contention."
Get proactive
Increasing instances of industrial action are placing a strain on public sectors that are already struggling to save money. Whereas risk managers operating in the private sector can mitigate to some extent the risk of strike action, those working for public organisations sometimes feel that they do not have the same luxury because headcount, pay and pension-related issues are often decided at government level.
However, according to Marsh Risk Consulting practice leader Douglas Ure, risk managers can take a proactive approach towards instances of restructuring, which if done properly might reduce the risk of industrial action or have a positive effect on its timing and duration. He says: "Rather than just waiting for the impact to occur, risk managers should be communicating early and consistently the message coming from central government.
"The risk of industrial action could be reduced if the communications are done in a good enough way.
"People need to feel as though they've been consulted, and feel as though the decisions are being explained - that sort of internal communications plan is absolutely critical because it may well make that element of unease and uncertainty that little bit more easy to live with, and that might result in a reduction to the risk of industrial action."
What's important?
If and when industrial action is organised in the public sector, the prioritisation of services is key to mitigating the effect, according to public sector risk management association Alarm vice-chairman and Dyfed Powys Police risk adviser Simon Davis.
He says: "When strike action is planned, risk managers who are involved need to work closely with their business continuity colleagues to plan and mitigate the impact of the strike action. Key to that is prioritising the services."
This can involve asking which services are concerned with saving lives. The blue light services have a key role, so emergency response units and critical care nursing, for example, are essential roles. Next on the list are services concerned with maintaining public safety. These can be social care, GP surgeries, day care facilities and so on. Finally, some services merely cause inconvenience if they are suspended in the short term, such as libraries and leisure centres.
"People can usually manage with the inconvenience if, for example, their children's school is shut for the day - nobody's life is being put at risk at that level," says Davis. "So there are some services that can be suspended for a day or two without serious implications, but they become critical the longer that industrial action continues."
Decreasing resilience
The prioritisation of deliverable services is essential during periods of industrial action, but equally as important is the way departments manage the peak demand and backlogs that typically ensue. The problem here, however, is that the very cuts workers are protesting against have left most organisations with staff levels that are only sufficient to cope with normal levels of demand, let alone any heightened levels arising as a result of industrial action.
Davies says: "The resilience of the public sector in terms of staffing numbers has generally gone down.
"So, recovering from the effects of a strike may now last much longer than they would have done three or four years ago, and certainly much longer than the industrial action itself."
It should be remembered that, as providers of last resort, public sector workers do not take to striking lightly. And yet, in the past few years, hundreds of thousands across Europe have often done so.
It can only be hoped that proper risk management can assist in ensuring government sector services do not deteriorate further owing to industrial action that is conducted with the aim of preserving them.
To see a graph of budget deficits and surplus and a chart of debt-to-GDP ratio, click here.