Risk professionals, insurers and reinsurers taste success at inaugural event in Dubai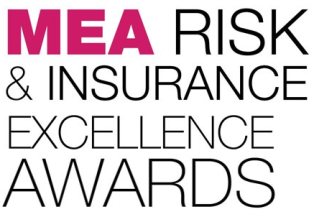 Risk managers, insurers and reinsurers were celebrating in Dubai tonight after tasting success at the inaugural MEA Risk and Insurance Excellence Awards hosted by StrategicRISK and sister publication GR.
Senior executvies from across the Middle East & Africa attended the event at the Four Seasons Hotel, which saw Mostafa Ramzy triumph with the main individual risk management award.
Ramzy, Senior Enterprise Risk Management Expert at Emirates Nuclear Energy Corporation, won MEA Risk Manager of the Year.
He was praised by the judges for his work to develop a risk management culture at a "company that had no risk management agenda" turning it into "one which now has risk at the head of the organisation and embedded throughout the business". This, they said, was "testament to the drive, dedication and skill of a remarkable risk professional".
The award for MEA Risk Communication Strategy of the Year went to Abu Dhabi Airports where the judges praised the winner for "an awareness, information and communications strategy developed around meaningful risk management achieving engagement with all stakeholders for its new airport terminal".
MEA Enterprise Risk Management Programme of the Year went to Roads & Transport Authority, Dubai.
The judges said that RTA had "generated a systematic and common understanding of risk throughout the organisation based on evidence of risk maturity and embedding of the risk principles, framework and process".
Meanwhile Marsh triumphed in the MEA Best Risk Financing Approach where it was cited for its "assessment of the total cost of risk and the concentration of risk resulting in a more incisive risk evaluation".
One of the highlights of the evening was a Special Recognition Award which was given to the IRM's Jordan and Palestine Group for what was described as their "extraordinary efforts in establishing and developing risk management practice".
The award was selected by StrategicRISK Editor-in Chief Mike Jones, who told the audience that it recognised unique endeavour in developing an understanding of risk and the promotion of risk management itself in the MEA region.
"The recipients of this award have demonstrated exceptional effort to help increase awareness of risk among businesses and also training for current and future risk professionals," he said.
"It was hearing from the group's Chair Raida Mashal at one of the judging sessions that made me realise this group is doing something special often in very difficult circumstances."
Full coverage of the ceremony will be published in the Winter issue of StrategicRISK, out in December.
WINNERS
MEA Commercial Broker Initiative of the Year
Winner: Marsh
MEA Commercial Insurer Initiative of the Year
Winner: Jordan Insurance Company
MEA Business Partner of the Year
Winner: Milliman
MEA Risk Communication Strategy of the Year
Winner: Abu Dhabi Airports
MEA Enterprise Risk Management Programme of the Year
Winner: Roads & Transport Authority, Dubai
MEA Best Risk Financing Approach
Winner: Marsh
MEA Risk Manager of the Year
Winner: Mostafa Ramzy, senior enterprise risk management expert, Emirates Nuclear Energy Corporation
MEA Special Recognition Awards
Winner: IRM Jordan & Palestine Regional Group
MEA Broker CEOs' CEO of the Year
Winner: George Kabban, UIB
MEA Insurer CEOs' CEO of the Year
Winner: Dr Abdul Zahra Ali, National General Insurance
MEA Reinsurer CEOs' CEO of the Year
Winner: Fadi Abu Nahl, Trust Re
MEA Industry Achiever of the Year
Winner: Mark Cooper, country manager, Lloyd's