The construction industry has transformed the way in which it plans executes and finances projects – placing technology at the heart
Sometimes seen as a technology laggard, the construction industry has made significant strides over the past five years as it transforms how projects are planned, executed and financed. From the use of unmanned aerial vehicles (UAVs, or drones) and 3D printing to business information modelling (BIM) and augmented reality, the future of construction is data-rich and analytics-driven.
BIM is at the heart of industry innovations and is either already in use or being tested by most construction firms, according to the Swiss Re Sigma report: 'Constructing the future'. The process, which involves generating and managing digital representations of the physical and functional characteristics of construction projects, offer significant benefits including keeping within budget, planning and operating safer sites and creating a digital 'memory' of the building.
However, it has been a steep learning curve and a large number of UK contractors are struggling to make the leap from a document-driven world into a data-driven one. "Regulation will help share the digital transformation," according to Sigma. "A number of governments, including the UK, Singapore and Finland now mandate the use of BIM for public infrastructure projects."
When it comes to other forms of technological innovation, the industry is somewhat further behind. 3D printing is growing at a rate of 28% according to one forecast. Among the many virtues claimed for large-scale 3D printing are its accuracy, speed of construction, reduced waste and lower health and safety risks because many of the more dangerous jobs will be removed at one stroke.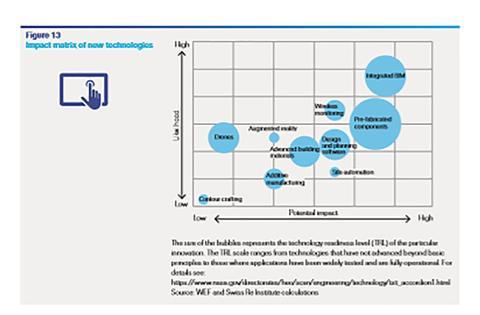 However, the lack of standard process control and limited availability and cost of materials is expected to hinder growth in the short to medium term. As Sigma points out, regulation may also be the key to unlocking its potential, with Dubai's stated aim that a quarter of its new building stock should be constructed from 3D printed materials by as soon as 2030.
As with all new technologies, coupled with the opportunities there are inevitably new and emerging risks that construction firms will need to manage. As it becomes more data-centric and connected (with integrated robots and the Internet of Things introducing new vulnerabilities), cyber is an inevitable concern for the construction and engineering sector. According to Sigma, "remotely accessible systems, like BIM, project management software and autonomous vehicles can create opportunities for cyber criminals to breach defences".
Another factor to consider is the potential increase in claims severity when a loss occurs due to the use of more advanced, expensive equipment. Technological advancements can amplify the nature of traditional perils, by making it possible to tunnel beneath major cities for instance, or build offshore wind farms in parts of the world that are prone to windstorms and/or earthquakes for instance.
And as projects become more complex and data and sensor-driven, insurers will need to work in partnership with main contractors throughout the lifecycle of a project, offering risk mitigation advice where it is needed. Meanwhile the automation of key tasks could see a shift in liability from users to the manufacturers of construction equipment. "New technologies will challenge re/insurers to develop novel approaches to understanding and evaluating risk," concludes Sigma.