Most destructive blazes in history of the US state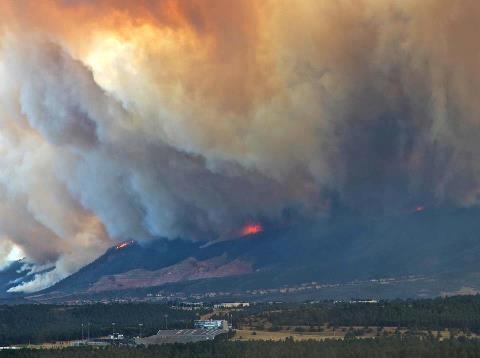 Record temperatures and windy conditions have created perfect conditions for an outbreak of wildfires in the US state of Colorado.
"The largest of the blazes, the Black Forest fire, doubled in size from Wednesday to Thursday, growing to 15,700 acres (40km2)," said Catastrophe modeling firm AIR Worldwide senior scientist Tomas Girnius.
"The fire is situated about 15kms east of where the Waldo Canyon Fire burned 347 homes and caused US $353m in insurance claims last year."
On Thursday, powerful winds pushed the fire toward densely populated subdivisions of Colorado Springs, Colorado's second largest city.
This forced the mandatory evacuations of thousands of residents. Local officials estimate that the fire is now about 5% contained. Colorado governor John Hickenlooper has declared disaster emergencies for the Black Forest fire and for two other fires in the state.
Girnius said: "The dry conditions are not limited to Colorado; drought is currently affecting the entire western US, and persistent hot and dry conditions, coupled with the potential of wind and lightning in some areas, have exacerbated overall fire risk."
According to AIR, no wildfire in Colorado history has destroyed more homes.
A fire in Waldo Canyon last year destroyed 346 buildings. Local officials report that, so far, the Black Forest fire has destroyed 379 homes and caused two fatalities.
More than 38,000 residents have been evacuated already.