The Swiss top the Global Resilience Index 2018 compiled by mutual insurer FM Global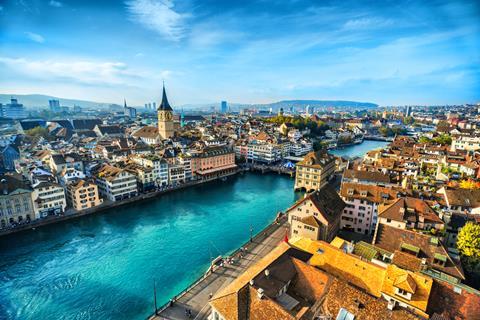 Switzerland, Luxembourg and Sweden occupy the podium of the top three countries ranked globally by resilience, according to an index provided by FM Global.
Top-quality infrastructure, access to quality local suppliers, as well as stable politics and low levels of corruption, meant Switzerland led the FM 2018 Global Resilience Index.
Switzerland (Zurich, pictured) scored a perfect 100 score in the resilience table produced by the mutual insurer.
Second place went to Luxembourg for the small country's economic productivity, political predictability, low corruption, and low exposure to natural catastrophe perils.
Sweden owed its third place overall to gaining the highest score for supply chain visibility – the ability to track and trace consignments across the supply chain – supported by low corruption and quality local suppliers.
Second-placed Luxembourg is an attractive domicile for London-based firms setting up Continental European subsidiaries because of Brexit, FM Global noted.
"Building resilience is about minimising vulnerability to loss while strengthening the ability to recover from it," said FM Global.
The US mutual insurer picked Luxembourg itself as its Continental European hub, following the UK's referendum decision to leave the European Union, which is expected to take place in March 2019.
The UK appeared 13th in Europe in FM Global's resilience rankings, and 18th globally, behind Germany (5th in Europe and globally) and the Netherlands (ninth in Europe and 11th globally) and France (10th in Europe and 12th internationally).
Norway, Austria, Denmark and Finland also made the top 10 regionally and globally (see ranking below).
Spain was down in 15th in Europe and 22nd worldwide, and Italy was lower still, ranked 22nd in Europe and 32nd globally.
Ukraine, Moldova and Albania, made up the bottom ranks in Europe, in descending order.
Major European countries languishing in mid-table included Portugal and Poland.
"The headlines from 2017 may highlight hurricanes and cyber risk, but other sources of disruption continue to strike," FM Global warned.
"The Manchester terror attack and Grenfell Tower tragedy in the UK, the deadly earthquakes in Mexico, and the massive wildfires in Canada, California, southern Europe and Russia all focus attention on the continuous and global need for business to remain resilient," the insurer added.
Below are the top and bottom ends of Europe's league table, snipped from the insurer's resilience ranking.
Europe's top 10 (showing score and global ranking)…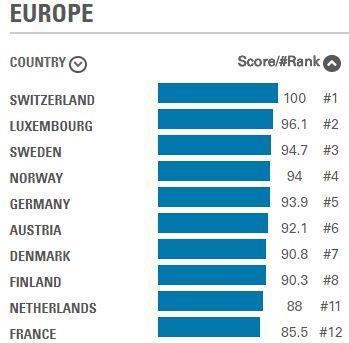 And Europe's bottom 10…