Robert Cartwright Jr kicked off Monday morning at RIMS 2018 in San Antonio by outlining three core aims for the risk management society in 2018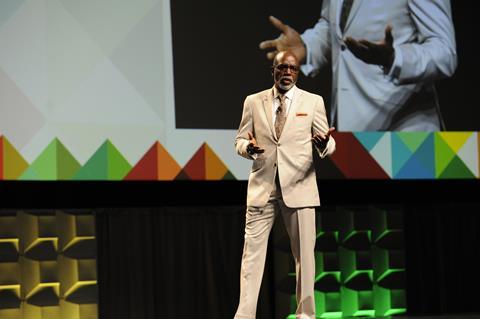 RIMS has three focuses for 2018, according to its president, Robert Cartwright Jr.
Cartwright (pictured) was addressing delegates today at the RIMS 2018 annual conference in San Antonio, Texas.
Global development, membership engagement, and diversity and inclusion (D&I) are the three priorities of the Risk and Insurance Management Society (RIMS) in 2018, he said.
On the first point, Cartwright was bullish about the industry group's international credentials.
He scorned comments that RIMS was a "national" body within the US.
"We need to talk big about going big in other countries," said Cartwright.
RIMS hosted its Risk Forum 2017 China event in Beijing last year.
In Mumbai last year the industry group held an invitation-only risk summit.
In November, RIMS plans to host bigger conference event in India, Cartwright said.
In Singapore, RIMS is in talks to host a cyber risk forum "soon", he added.
Cartwright Jr was also keen to focus on the mentorship issue for membership engagement, picking out examples of upcoming risk professionals.
Mentorship among risk professionals is crucial, he emphasised, putting together "today's veteran risk professionals with tomorrow's leaders".
RIMS has launched a "Mentor Match" programme on its Opis web channel to encourage knowledge transfer through mentorship, he added.
On D&I, he emphasised that "diversity ensures our industry is well rounded".
He pointed out that, in addition to the usual gender, ethnic, religious and socio-economic aspects of D&I initiatives, the risk profession is necessarily a synergy of diverse disciplines, including audit, legal, insurance, and compliance (his own background).
The inclusion part of D&I means "we have to act", he said, actively engaging with diversity.
RIMS has set up a D&I taskforce, Cartwright added.
StrategicRISK is reporting live from the RIMS 2018 event in San Antonio, Texas.