Hoarding paperwork and risking losing data and documents is bad news – particularly with GDPR regulation looming, a Cleardata study warns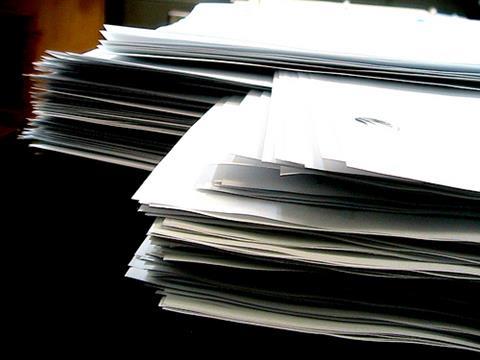 Two thirds of UK businesses hoard paperwork and risk losing important documents, according to a report from Cleardata.
Many lack any document management strategy, leaving themselves open to serious threats, the document management firm said.
The EU's General Data Protection Regulation (GDPR) becomes effective from May 2018, with harsh penalties for mismanaging and losing control of information.
Some 66% of UK businesses could be at risk of document losses due to mismanagement of vital business paperwork, according to the study, commissioned by Cleardata.
For 72% the main storage option is an array of filing cabinets, cupboards and drawers – taking up expensive floor space.
Meanwhile 44% of businesses admitted to using storage lock ups or self-storage facilities, and 22% store documents in basements and lofts which could be prone to flooding and damp.
The report said 17% even put paperwork in sheds and 16% in garages.
"Our research found that many businesses are archiving critical business documents in weird and wonderful locations including sheds, basements and lock up garages, for an average of just over ten years," said David Bryce, managing director of Cleardata.
"This can leave vital and sensitive information open to theft and damage and also make it difficult to find quickly if needed for legal or data compliance purposes," Bryce added.
Cleardata warned on average it takes businesses between five and six days to retrieve paper documents, although for 44% it takes over a week and for some it takes over a month.
Under GDPR's rules, once an information loss or breach has been detected, organisations have just 72 hours to carry out an investigation, and to then let the regulator know - in the UK the Information Commissioner's Office – what has happened.
"Although we live in an increasingly digital world, historical and new paper-based documents still need to be kept safely and managed effectively," said Bryce.
"But a staggering amount of UK businesses simply don't seem to know what to do with them and underestimate the risks that this can create," he added.