Record corn and soybean price after worst dry spell in 50 years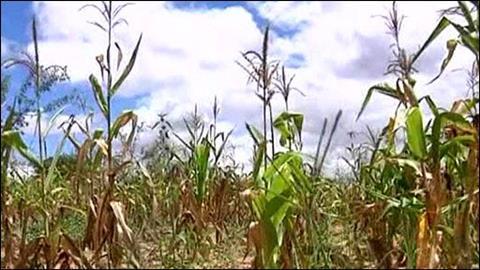 The most severe US drought in 56 years is threatening to cause a global food crisis, as corn and soybean prices rocketed to record highs.
Corn prices have soared by 51%, while wheat has climbed 40% and soy beans almost 20% over the last month.
The surge in prices comes in the wake of one of the driest Junes on record in the US, as 55% of mainland America experienced moderate to extreme drought by the end of June, according to government statistics.
"Topsoil has dried out and crops, pastures and rangeland have deteriorated at a rate rarely seen in the last 18 years," a report by the National Oceanic and Atmospheric Administration said. Only 31% of the corn crop was in "good to excellent condition" at the end of last month, according to the US Department of Agriculture.
The prospect of another food crisis will concern authorities in developing countries, who faced revolt and hunger following a surge in food prices in 2008. Experts have also warned that the inflation in prices could also prove a further setback to the American economy as it attempts to get back on track.
Nearly 80% of America has been classified as "abnormally dry" this summer, as the country continues to suffer in the grip of the hottest year since records began in 1895.
The drought shows no sign of abating, as heatwaves in Washington, Kentucky and Pennsylvania saw temperatues climb to more than 104F (40 C), and little rain has been forecast in the upcoming weeks for the hardest hit regions.
What will be the global impact of the US drought and crop failure?
Have your say using the comment box below