Thomas Buberl, CEO, Axa Group talks at Brokerslink 2019 about the biggest risks facing businesses and why we are on the verge of another golden age of insurance
"When you think about our environment and the uncertainty it presents it's a very determining time for us," said Thomas Buberl, CEO of Axa.
He was speaking about the biggest risks facing businesses and what they mean for the world of insurance, at the annual Brokerslink conference in Bordeaux.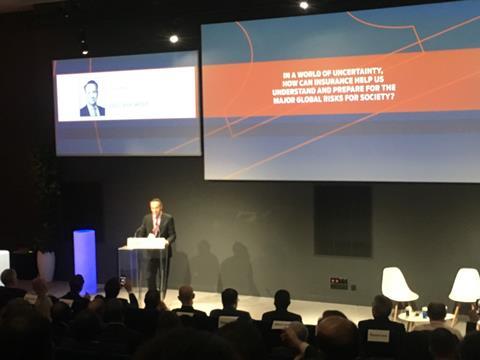 He said that risks such as Brexit, low interest rates and the US-China trade war may be dominating headlines, but that to consider them the most severe threats facing businesses is very short-term term thinking.
Instead, he argued that the top risks facing organisations are the same ones that they have been for the last six or seven years - cyber, climate change and geopolitical recession.
However, Buberl said that even though these risks have been siginifcant for some time now - they are changing in nature and becoming ever more interdependent.
In climate change, for instance, we now talk about things like biodiversity, how the planet is being badly treated, and how behaviour that has made us successful over years will no longer do so because of the environment.
"Here is the big question," Buberl said, "How can we change our behaviour and how do we find solutions that don't only treat the extremes?"
Similarly, the way we think about technological risks are changing. For a long time, when we thought about technology disruption, we were thinking about cyber challenges. But today, Buberl argued, we can clearly say we have moved beyond this.
While cyber is still an important consideration for businesses, now we must also interrogate the consequences of artificial intelligence on society. This means understanding what AI means for wellbeing, the possible creation or destruction of jobs, and ultimately how we all stay relevant in an AI society.
A related risk, according to Buberl, is the continued technology war between the US and China. This, he explained, means we are now heading towards a society where there are two distinct techolongical systems with different rules of compliance and engagement.
Geopolitcal recession is the third main risk that Buberl focused on. He said that global multinationalism had made it very easy to leverage globalism, but that is no longer the case.
Instead we see significant conflicts not just between countries but also within them. This, Buberl said, begs the question how can we live up to solving these risks as countries across the globe face increasing internal and external political tensions.
He said: "These risks are not individual anymore and separable. They are interlinked and affect each other… And what has made us successful in the past will probably not be what makes us successful tomorrow."
Despite the risks, Buberl felt that the prognosis for the insurance industry was good. In fact, he argued that the heightened risks and increased complexity meant more opportunities not less and that we were on the verge of a "golden age of insurance".
He concluded: "We are living in uncertain times, but uncertainty is our business… now we need to think about how exacty we can help our customers to lead a better life."