From the hard hat to the steel-toed boot, there's always been a safety aspect to what workers wear. Wearable technology is about to take that to the next level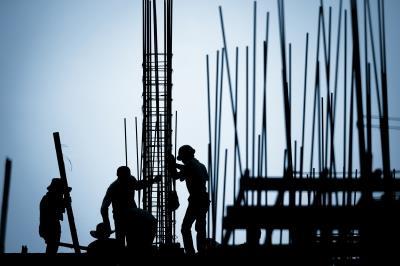 Workplace injuries can change people's lives forever. Workers can see their careers end and their families' lives destroyed.
People should always return home in good health. As such, worker safety resonates as one of the most tangible and vital areas of risk management. From Google Glass to Apple's iWatch, wearable technology has garnered headlines for its consumer appeal. However, its utilisation in the corporate world is cause for considerably greater elation.
"Innovative technologies, like wearable devices, have the potential to improve worker safety," says Sheri Wilbanks, head of casualty risk consulting for AIG Asia-Pacific. "That's why we invested in Human Condition Safety, a start-up that uses wearables, artificial intelligence and building information modelling to create a safety ecosystem that enables workers to reduce injuries and employers to improve operational efficiency."
The technology from Human Condition Safety can detect when workers carry too much weight, make a 'bad bend', or enter an area that puts them at risk of injury because of environmental conditions or getting too close to dangerous equipment. As such developments unfold, it is incumbent on the risk manager community to understand the powerful capabilities on offer. So, what do risk managers need to know about wearables and worker safety?
"Wearable technologies will enable risk managers to gain a more complete understanding of their company's risk profile," says Human Condition Safety chief executive Peter Raymond. "Sensors embedded in wearable devices will provide them with actionable intelligence that can assist them in preventing and mitigating risks more effectively than ever before.
"More importantly, wearables could help risk managers predict and avoid dangerous situations by correlating risks with observed behaviours."
The International Labour Organization says every 15 seconds a person is killed, and 153 are injured, in a workplace accident. "That's not acceptable," Raymond says. "Wearables hold the promise of making every industry safer by helping workers and employers identify risks more quickly and providing insights that can help prevent accidents from happening in the first place."
The benefits are particularly acute in construction, which accounted for more than 20% of worker fatalities in 2014, according to the Occupational Health and Safety Administration (OSHA).
"For example, if a worker using Human Condition Safety's technology enters a blind spot around a piece of heavy machinery, the system can warn the worker to move to a safer location or automatically shut down the machine," Raymond adds.
Goodman Group head of risk Tony Sothmann agrees that wearables may help risk managers measure employee performance and trends to identify areas where training or remediation is needed: "Wearables would provide an additional layer of support to those workers wearing it, but it won't replace the need for workers to exercise judgement and apply training in situations," he says.
"Will the use of wearables increase privacy issues and the threat of 'Big Brother' watching staff? The use of GPS, for example, or other data collection may create trust issues with staff, who could be sceptical about how an employer would use the device and the data collected."
Lazada Group head of group risk and internal audit Gordon Song is also concerned about the data implications. "Risk managers will need to deploy analytical tools, and learn new skills, to be able to competently and efficiently analyse and make sense of this 'Big Data'. To do this effectively also requires some amount of medical knowledge or at least a very good medical partner," he says.
But Nick Blismas, a professor at RMIT University's Centre for Construction Work Health & Safety Research, says the university is excited. "The wearable technology is both powerful and strangely seductive. Some work has commenced in intelligent fabrics that can incorporate sensors into textiles, making the technology less intrusive," he says.
"The current 'obvious' and sometimes large sensors [on the wearable technology] will need a little more development for easier adoption. However, I don't believe the technology is going to be the challenge. The two main challenges as I see them are resistance by workers and Big Data, plus making sense of it for safety," he says.
Blismas points to three types of safety-related sensing: "Firstly, physiological monitoring, which are sensors to monitor basic physiological indicators such as blood pressure, heart rate, temperature, alertness and fatigue.
"Secondly, ergonomic monitoring, which involves monitoring the movement of the spine, limbs and joints, stress of joints and lifting.
"Thirdly, behavioural monitoring and geo-positioning, which involves monitoring movement on site, type of activity, such as sitting, standing, walking, driving, performance in activities such as speed of driving, erratic driving, efficiency and productivity, location on site and proximity to hazards."
He says the monitoring will create two challenges in particular.
"It is important to understand the safety implications from this massive stream of data, particularly if we add the Internet of Things, in which objects are sensored and connected, into the mix. Then there are personal privacy concerns. The idea of this level of monitoring will be a great challenge. Resistance from workers will be significant."