Germany's future looks bright – dimmed only by the shade from looming global trade disputes and potential post-Brexit protectionism. But Germany feels no fear
The outlook for Germany's economy right now is bullish, with the International Monetary Fund anticipating a "golden opportunity" to address medium-term challenges and shape a brighter future. It anticipates economic momentum will be maintained in 2018, citing dynamic business investment, job creation and rising wages among the factors boosting performance. However, it adds that "rising protectionism and the threat of a hard Brexit" are somewhat dampening the outlook, with the IMF cutting its growth forecast for 2018 to 2.2% in early July. This compares with GDP growth of 2.5% in 2017.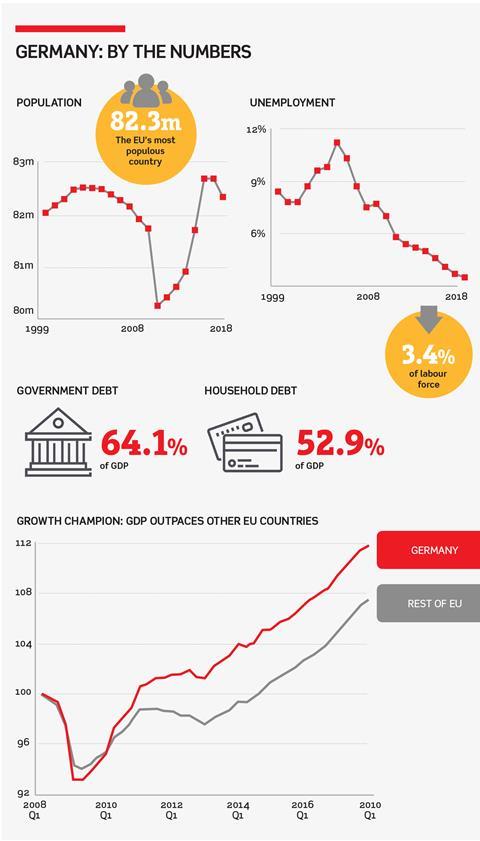 Among its future challenges is the country's unfavourable demographics, with an ageing population having an impact on the workforce. Solutions to this include pension and labour market reforms.
"The divergence between an improving current assessment and weakening expectations suggests that trade fears are only fears and not a drag on growth… yet." - Carsten Brzeski, Chief economist, ING Germany
The IMF cites Germany as an "innovation leader" but says it needs to encourage venture capital funding to help start-ups at the growth stage. Tax incentives for SMEs and reduced administrative burdens are seen as further incentives to fostering entrepreneurship.
IF DUMPED BY TRUMP?
The risk that US president Donald Trump will impose tariffs on a wide range of US imports could also affect Germany's near-term prospects. While Trump and European Commission president Jean-Claude Juncker announced a truce over the imposition of tariffs, concern remains that the tariff threats alone could have an impact on business confidence.
Exports to the US exceeded imports by €24.4bn in the first half of 2018, barely unchanged from its surplus of €24.5bn in the same period of 2017. However, a fall in manufacturing output in June has fuelled concern over an export-led slowdown. New orders placed with German manufacturers were down by 4% during the month, according to official figures.
In a letter to US commerce secretary Wilbur Ross, BMW of North America warned that US tariffs could result in retaliatory measures by China, Japan and South Korea, "potentially leading to strongly reduced export volumes and negative effects on investment and employment in the US".
It is too early to tell if the threat of import tariffs and fears of a resulting trade war will spill over into the real economy. Early composite purchasing manager's index figures from IHS Markit suggest manufacturing output will rebound in Q3, but analysts have warned that companies could yet reconsider their investment plans in anticipation of a global trade dispute.
"The divergence between an improving current assessment and weakening expectations suggests that, at least up to now, trade fears are only fears and not a drag on growth… yet," says ING Germany chief economist Carsten Brzeski. "In an export-oriented economy – in which the US is still the largest export destination – the prospects of more complicated trade are raising concern. For now, the German economy clearly shows signs of fear but does not feel it."