The Willis Towers Watson deputy chief exec is leaving at the end of the year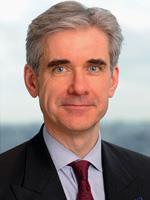 Willis Towers Watson president and deputy chief executive Dominic Casserley is leaving the company at the end of the year.
Casserley joined the Willis Group in January 2013 as chief executive, a position he held until January 2016, when Willis and Towers Watson merged and he took on his present position.
While at the company Casserley oversaw the acquisitions of broker Miller and Gras Savoye.
From January this year, at the newly merged Willis Towers Watson, Casserley was a member of the board.
He co-led the integration process and was head of one of the global business segments, investment risk and reinsurance (IRR).
"I have been honoured to lead Willis for three years, and to help build Willis Towers Watson this year," Casserley said.
"I have been delighted to work with John Haley and the expanded Willis Towers Watson team to build a unique global advisory, broking and solutions franchise across Property & Casualty, Retirement, Health Care, Insurance, Investment and Talent and Rewards markets."
Towers Watson chief executive John Haley added: "Dominic has started us on the journey towards realising the full potential and benefits of Willis Towers Watson for our clients, colleagues and shareholders."