Your 10 minutes with the board…what issues should you be raising?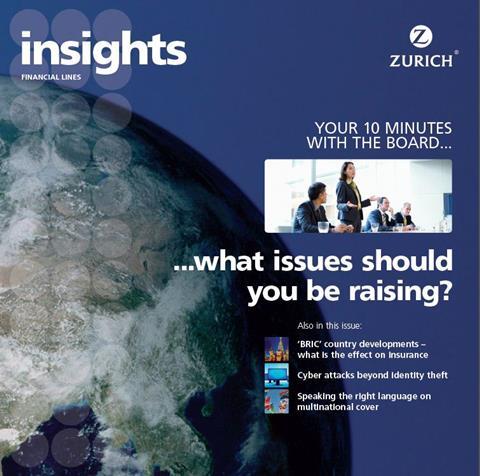 Welcome to this edition of Insights on Financial Lines. Have you recently been invited to present to the Board? We understand that those ten minutes are crucial. To ensure you make every minute count in this insight we will share with you some of the top issues to raise with your Board members and Senior Executives.
We also look at cyber crime. This very topical issue goes beyond identity theft and the risks can be much larger with the potential to bring down organizations' entire systems. With our expertise and know-how we can help you protect your business from this type of crime.
We have all experienced fall out from the economic turbulence over the past three years. For Financial Institutions the shake up has paved the way for expansion via mergers and acquisitions. The opportunities are great for business, but have you considered the potential opportunities for fraud? Our article on page 16 gives some recommendations for detecting fraud and possible preventative methods to consider.
Organizations are constantly looking for ways to improve investment income and business growth. For companies considering expansion into emerging markets we bring updates on Brazil, Russia, India, China and the Middle East.
We hope you enjoy this issue and, as always, your feedback would be most welcome.

Keith Thomas
Global Chief Underwriting Officer, Specialty Lines
Zurich General Insurance
Click here to download the full report (13Mb PDF)