Asian cities account for seven out of top 10 in new climate change vulnerability index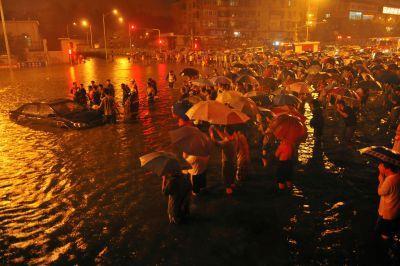 Asian growth economies will be those most exposed to instances of environmental risks in future according to a new study, after seven of the continent's major cities were listed in the top 10 most at risk from the onset of climate change.
Maplecroft's fifth annual Climate Change and Environmental Risk Atlas was released last week and identified Bangladesh's capital Dhaka as the city at the top of its climate change vulnerability index (CCVI). Manila, the Philippines (2), Bangkok, Thailand (3), Yangon, Myanmar (4), Jakarta, Indonesia (5), Ho Chi Minh City, Vietnam (6) and Kolkata, India (7) were the other Asian cities listed in the top 10.
The CCVI forms a key part of Maplecroft's Atlas and evaluates fifty cities that were chosen for their current and future importance to global business in terms of exposure to climate related natural hazards; the sensitivity of populations; development; natural resources; agricultural dependency; research and development; government effectiveness and education levels.
The study pointed out that Asian growth economies were particularly vulnerable not only because of their exposure to extreme weather events, but also owing to the limited capacities of local governments to manage them.
The study warned that instances of major flooding seen in Asia in recent years could become both more frequent and severe in the future. It also said that long-term changes in temperature and rainfall patterns could have devastating effects on ecosystems, human health, industrial processes, supply chains and infrastructure.
"As global corporations expand into the emerging growth markets, their operations and supply chains will become exposed to a complex set of climate risks that have the potential to disrupt business continuity," states Maplecroft's head of maps and indices, Helen Hodge. "It is essential for companies to identify where suppliers, assets and personnel are most at risk and plan for the long term."