What happens if the eurozone breaks up in 2012? Here's one plausible scenario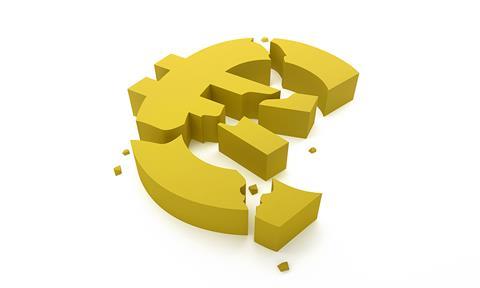 At the end of this year many commentators think it's unlikely that the eurozone will look the same as it does right now.
Alarming signs, such as France's credit rating downgrade and the IMF's refusal to extend lending support to Greece, have increased fears over the eurozone's future.
But how exactly would a eurozone breakup play out? Exclusive Analysis outlined a "plausible scenario", in which Greece withdraws from the Euro in 2012, to try and help businesses understand the impact of a breakup.

Here's what could happen, according to Exclusive Analysis:
After April elections the Greek government might be unable to secure bailout funds, having missed austerity and reform targets. In this case, Greece would need to announce its withdrawal from the eurozone, closing its banking sector and freezing current accounts
In response, German and French governments could nationalise their banks, which are most exposed to Greek sovereign debt, consequently increasing their own national debt. This would lead to a new round of credit rating downgrades
In the face of this scenario Italy would likely suspend its debt repayments.Prime Minister Monti's administration would then collapse
While the European Central Bank would aim to work with eurozone governments to protect the banking sector, Europe's leaders would be unable to agree on policies to protect themselves from the contagion
Portugal and Spain, unable to access emergency bailout funds, would follow Greece and Italy by suspending their repayments
Soon European politics would begin to polarise and become more nationalistic. Nations would withdraw from the eurozone and impose protectionist measures