Thinktank urges temporary tax cuts and change to fiscal policy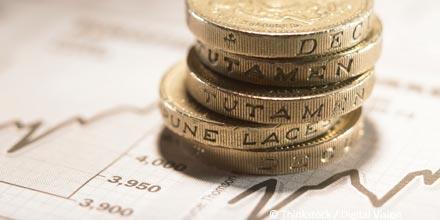 The Coalition's fiscal strategy to boost the UK economy and increase growth is "unlikely to deliver the desired outcome," according to the Institute for Public Policy Research (IPPR).
The thinktank warned that the Government's current policies were deterring spending, and recommended "temporary tax cuts and a boost to infrastructure spending not offset by cuts elsewhere" to ensure growth in the medium term.
In addition to these proposals, the report also recommended a raft of other measures to boost growth in its 6-point-roadmap to economic recovery. These included an increase in quantative easing, fiscal measures to increase short-term growth, and measures to support the long-term unemployed.
"The roadmap for growth presented here represents the best chance of beginning to reform the economy in a way that maximises the chances of strong and sustainable growth and big falls in unemployment during the next decade," said Tony Dolphin, the IPPR's chief economist.
The report warned that the growth rate will fall to 1.7% in the next few years based on current predictions, resulting in a loss of over £160bn. Such low growth rates would make it difficult to tackle youth unemployment and the budget deficit, as well as negatively impacting upon the quality of life and public services, according to the IPPR.
The report will give rise to further doubts regarding the government's handling of the economy, after the International Monetary Fund (IMF) downgraded the UK economy's 2012 growth forecast to 0.2% last week.
Dolphin urged the Chancellor George Osborne to drop his current plan to wipe out the budget deficit within the next five years, and instead look to resolve deficit reduction over a longer and more sustainable period.
"These policies will require an increase in government borrowing in the short term, but
this can be done without jeopardising fiscal credibility," Dolphin insisted.
The thinktank also insisted that while the Government can do little to insulate the UK economy against euro zone problems, policymakers could do more to anticipate local problems such as a sharp appreciation of the sterling or a sharp rise in the number of home repossessions.
The recommendations come just days before Wednesday's GDP figures, which will reveal whether Britain has managed to pull itself out of a double-dip recession, and will give Osborne pause for thought over the Government's fiscal strategy.
Can the coalition's plans for economic recovery work in their existing form or does the UK risk future economic strife?
Have your say on this story using the comment box below.