As the world's population continue to grow, demand for enhanced and new infrastructure has never been greater. This poses many challenges and intensifies the risks of project delays and cost overruns. But the tech revolution is bringing fresh new opportunities, albeit slowly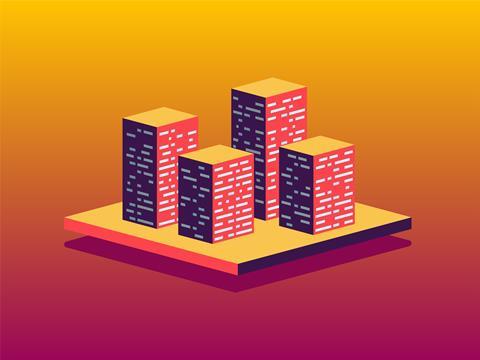 Unlike the taxi industry, or the retail sector, where autonomous cars and self-service checkouts will eventually put millions out of a job, the construction sector is always likely to depend on manpower.
Whether it's building a new housing estate or constructing a multi-billion-pound, cross-country rail link, the supply chain that gets the materials to the site, and the process of putting them together, involves thousands of manual workers. It employs a huge variety of experts from brick makers to brick layers, railway engineers to train engine drivers, and architects to archaeologists.
Against a backdrop of population growth (roughly 83 million people are added to the world's population every year) manpower in the construction industry has never been more important. The statistics are indicative of just how high global demand is for sustainable infrastructure: urbanisation continues to grow – about 55% of the world's population lives in urban areas and this is set to increase to 68% by 2050, according to the UN.
Investments are being made: the world spends about $2.5 trillion every year on transportation, power, water, and telecom systems, says McKinsey Global Institute. Yet this does not come close to meeting the world's ever-expanding needs. The world needs to invest more, it says, about an average of $3.3tn annually, "just to support currently expected rates of growth".
At the same time, economic and population demands have increased the size and complexity of infrastructure projects, changing the risk profile and eliciting fresh new challenges.
The nature of these 'mega' construction projects are intensifying traditional construction risks – project delays, cost overruns and financial challenges – and they are throwing up new threats altogether, such as cyber-related risks, where new technologies are used to support construction
"Today's infrastructure projects are so much more complicated," says Cedric Wong, expert engineering underwriter at Swiss Re Corporate Solutions. "There are more physical and contractual interfaces. Projects are multi-stage, multi-party and, in some instances like the Belt & Road Initiative, they are multi-national – with infrastructure plans spanning across countries.
"The nature of these 'mega' construction projects are intensifying traditional construction risks – project delays, cost overruns and financial challenges – and they are throwing up new threats altogether, such as cyber-related risks, where new technologies are used to support construction."
Indeed, each of these risks are as significant as the other. They impact today's megaprojects and will likely remain risks to future construction projects as infrastructure continues to grow in complexity.
The cost of overruns
Consider the risks of overruns in time and budgets. These are well-known risks for the construction industry, but they appear to present an even bigger challenge for megaprojects.
Nine out of ten megaprojects experience cost overruns, says Bent Flyvbjerg, an expert in project management and professor of major programme management at Said Business School, Oxford University.
"Overruns [in costs] of up to 50% in real terms are common", he says in his paper, What you should know about megaprojects, and wh y.
"Overrun is a problem in private as well as public sector projects, and things are not improving; overruns have stayed high and constant for the 70-year period for which comparable data exist."
On time overruns, he says: "Delays are a separate problem for megaprojects and delays cause both cost overruns and benefit shortfalls."
These risks can sometimes be exacerbated by aggressive bidding, explains Wong. "Contractors are bidding competitively for these large megaprojects and sometimes for work in territories where their experience and understanding of laws will be different to the laws of their home jurisdictions. This adds another layer of risk, which could contribute further to overruns in time and budget.""
Could technology be the answer?
So, are there viable support solutions that could help manage the risks of overruns?
Smart technologies are beginning to play a bigger role in construction, most notably innovation in construction modelling in the form of building information modelling, or BIM for short.
BIM is an advanced form of 3D modelling that incorporates ground-level and subterranean high-definition survey data from new scanning tools that can be mounted on everything from boats to drones.
As well as aiding in architectural design, BIM provides a standardised way to share and exchange information about a building throughout its life cycle, including post-construction management of the facility.
"Such collaborative software tools can generate significant efficiency gains", says Wong. "Especially for highly fragmented projects involving multiple stakeholders."
In a world where hundreds of contractors and subcontractors are making precise and carefully co-ordinated assumptions about a tightly timed project from a single survey, long before breaking ground, BIM can make all the difference. It minimises the chance of last-minute surprises when the builders arrive on site and the single data set means all the contractors are up to date with the latest changes to the schematics, which drastically reduces the chance of delays.
Seeing the big picture
And there is more on the horizon: technologies such as the internet of things, artificial intelligence and automation have transformed some industries from manufacturing to transportation and logistics, offering competitive efficiencies both in terms of time and cost.
These sectors are beginning to feel the gains of the tech revolution – automating elements of the production process and the distribution of critical supplies and materials; as well as creating a digital ecosystem between stakeholders and third-party vendors which increases the robustness of communication along lengthy and complex supply chains.
They are indicative of the potential for the construction industry.
Then there are innovations in computer-based manufacturing, 3D printing, and self-healing concrete. "The development of digital fabrication techniques, in other words, 'computer-controlled manufacturing' that either builds a product from the bottom up or cuts away at material to create a product from the top down – is re-orientating the traditional construction process," says Wong.
When the various technologies are combined, we could begin to see an increase in automated construction processes
"Modular components can be pre-fabricated using automated and controlled factory environments and delivered and erected at the project site.
"At the same time, robots can be deployed at construction sites to design and engineer components or even whole structures using 3D printing."
He adds: "New materials are also being developed, such as self-healing concrete, which repairs cracks without the need for maintenance, or kinetic technologies like Lybra, which enable flooring to harness the energy associated with vehicles or people moving on surfaces."
How much could these technologies transform the construction industry?
"When the various technologies are combined, we could begin to see an increase in automated construction processes," says Wong.
"Robots will be using dynamic new materials to build structures with drones constantly monitoring the site to inspect the work and identify or solve problems as they arise."
But while the benefits are plentiful and momentum for new tech in construction is growing take-up will be slow.
As Wong puts it: "Such a radical overhaul of construction and engineering remains a distant prospect, at least for most mainstream projects.
"While some innovations in construction have recently been adopted, many have not progressed much beyond the proof-of-concept stage. Transformation will happen but gradually."
Future risks
Of course, while take-up is slow, these technologies will, undoubtedly, change the risk profile for the construction industry. And it would be wise for businesses to keep their finger on the pulse on such developments.
In a scenario where construction sites become interconnected and automated, cyber-related threats will likely move further up, if not to the top of the risk register.
"Cyber security breaches posed by viruses, malware and ransomware and criminal cyber activity, could disable and disrupt systems," warns Wong.
"These breaches carry significant legal, financial, reputation and business interruption risks. Remotely accessible systems, like BIM, project management software and autonomous vehicles, for example, can create opportunities for cyber criminals to breach defences.
"Data from integrated robotics that assist in builds, drones that monitor worksites and IoT technologies could be vulnerable without their owners' realising it."
He adds: "These risks will mean that the severity of claims could increase even if the frequency of accidents decreases."
Innovation in insurance
A new dawn for construction risks will place greater onus on insurers to innovate. These technologies – with all their benefits – are for the taking. Not only for the construction industry but for insurers, too. And Swiss Re Corporate Solutions knows it.
"Insurers must continually evaluate how technology could alter the risk landscape and influence their underwriting approach," says Wong.
"Digital technologies could lead to significant improvements in efficiency including enhanced monitoring, mitigation and management of engineering-related risks. This could underpin further improvements in claims experience."
He adds: "Product and process innovation will help insurers respond to the evolving risk and competitive landscape."
But how will this play out for the future of insurance?
"Insurers could deploy new technology to bolster efficiency and improve underwriting accuracy," says Wong. "In a digitally-connected world, insurance may come to play more of a risk avoidance/mitigation role, rather than solely indemnifying losses.
"This may require a more radical reconfiguration of engineering insurers' business models."