Cobalt is vital for lithium-ion batteries, but its mining can fall foul of governance requirements for suppliers and ethical investment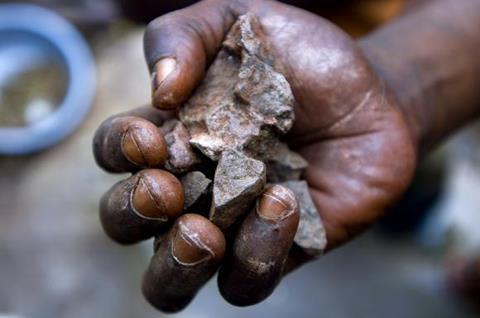 Cobalt mining investments and supply chain links are under the spotlight in 2018, particularly relating to the Democratic Republic of Congo (DRC).
Reputational and compliance risks arise because of a lack of supply chain transparency within this industry, combined with human rights and sustainability concerns, according to an investor note from Hermes, an environmental, social and governance investment firm.
Cobalt is an essential component of rechargeable lithium-ion batteries, used in laptops and smartphones, and for which already high demand is set to grow – particularly as electric vehicles and energy storage rise in prominence.
Cobalt-rich batteries are viewed as a greener alternative to traditional lead-acid batteries because they are smaller, lighter and hold more energy, according to a report from Hermes, entitled "Modern slavery: the true cost of cobalt mining".
The DRC accounts for the majority of cobalt extraction, worldwide, although governance concerns have seen Canada challenge the African country, as a potentially more ethical alternative source.
High political risk and endemic corruption in the DRC's government-linked mining industry further complicate the picture.
"Thousands of artisanal miners dig by hand in the DRC. Children, too," notes the report from Hermes. "They have no industrial tools, no protective clothing, no hard hats, not even facemasks to shield toxic dust or shoes. They are searching for cobalt, the rare-earth metal powering the mobile revolution."
Auditing firm Mazars recently came out with corporate governance guidance relating to human rights – the subject of United Nations and European Union regulatory initiatives.
Christine Chow, an associate director for the stewardship and engagement team, Hermes EOS, said: "As well as demanding greater transparency from companies in relation to their mineral supply chains, investors are increasingly realising the need for more holistic action to address human rights abuses."
"Simply refusing to purchase unethical cobalt will not solve the problem. There will always be other buyers," continued Chow.
"Meaningful change means all stakeholders must come together to take action - identifying and addressing the challenges in cobalt mining, and helping the communities adversely impacted by the activity," she added.
Read more around these topics, below.
Getting ethics right as a risk manager
Election shocks pose political risks – XL Catlin
Energy storage demands rising – Pioneer briefing
ESG myths remain persistent – Hermes study
Human rights corporate governance: new guidance out