Adrian Clements ArcelorMittal Luxembourg's general manager, asset risk management, talks about building a galleon by hand, his greatest hero – and his secret relaxation method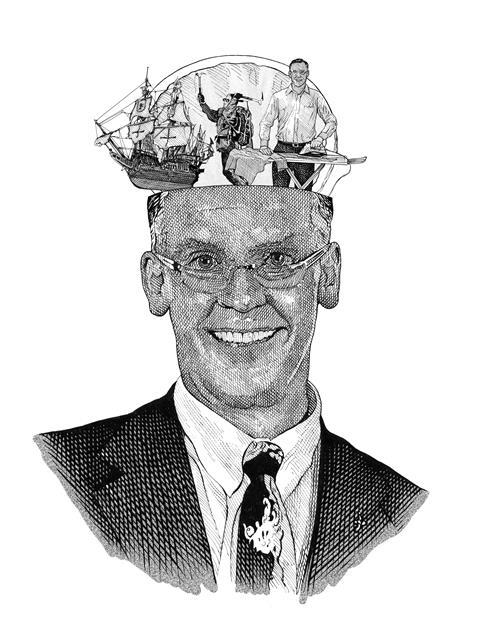 What are you thinking about right now?
I'm thinking about how to achieve better consistency with our operational risk reporting. Ultimately, I am trying to create a new way of looking at operational risk, and there are some very interesting ideas out there on how to take various indices - whether it's the transparency index or the DOW sustainability index - and create something new. We're trying to link these operational risks directly with shareholder value and take risk management to the next level.
What is your greatest fear?
Greed. The world today is, to put it very bluntly, driven by greed. If 80% of the world's financial resources are controlled by 2% of the population then something's wrong. I'm scared that the wars and civil unrest that we're seeing in various parts of the world are likely to spread. Some of these issues are rooted in the drive for more power (greed), which is something I don't see going away.
What is your most treasured possession?
I have a model wooden boat that I built roughly 15 years ago. It's an old galleon and is about one metre long and one-and-a-half metres high. It took me about two years to build due to planking and rigging challenges and has now got pride of place on a platform in my staircase.
What makes you happy?
When my family laugh. Whether we're laughing together over breakfast or while watching a comedy sketch on TV, that's the one thing that makes me happy. Honest, heartfelt laughter lightens everything up, and makes any negatives just go away.
Who is your greatest hero?
I'm going to name two. First, there's Stephen Hawking, because even though he's got such a severe disability, he's an amazing example of just how powerful the mind can be when it is able to think outside of the box. Second, I'd have to say Captain Robert Falcon Scott, and the way in which he went into the Antarctic - into the unknown - and just went for it.
What is the biggest risk you've ever taken?
Before I had a family, I used to do a lot of free climbing and ice climbing. I used to really enjoy it because you're able to push yourself to the limits of your ability. For me it was all about giving yourself goals, challenging yourself, and then saying "I did that and I survived".
What is your greatest achievement?
I've been very privileged to have someone like Lakshmi Mittal put his trust in me to set up a risk management system in a group as big as ArcelorMittal. We had nothing and now we have a robust, reputable, forward-thinking risk management system in the complex, large and dynamic group that is ArcelorMittal. It was and still is a challenge; the routine stuff isn't acceptable, you have to do extraordinary things in a group this size and be able to prove that it works.
Tell us a secret
I do my own ironing. I started doing it at university and I do it to relax. I sit there once a week and I spend about two to three hours ironing. It's quite medicinal in that it creates time to think. SR
Adrian Clements, general manager - asset risk management, ArcelorMittal Luxembourg