This is the most positive level recorded since Russia's invasion of Ukraine
The IoD Directors' Economic Confidence Index, which measures business leader optimism in prospects for the UK economy, rose to -28 in January 2023, from a near-record low of -58 in December.
This is the most positive level recorded since Russia's invasion of Ukraine pushed the index down to -33 in March last year.
The index of confidence in business leaders' prospects for their own organisations also improved in January, rising to +37, up from +24 in December. The last time the index of confidence in directors' own organisations was at a similar level was February 2022 when it recorded a value of +39.
Inflation to peak in summer 2023 'at the earliest'
However, business leader expectations in terms of revenue, cost, headcount and investment intentions for the next 12 months were largely unchanged from December.

Inflation expectations improved, with 24% now believing 'inflation has already peaked', up from 10% in December. However, 4 in 10 company directors still do not expect inflation to peak until summer 2023 at the earliest.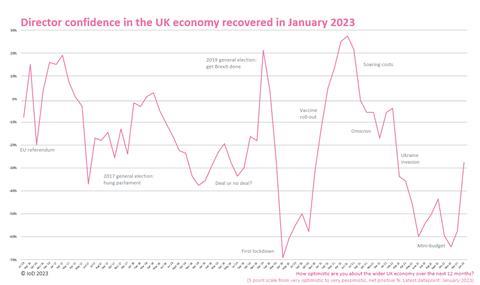 Kitty Ussher, Chief Economist at the Institute of Directors, said the improvement in sentiment was due to a period of "relative calm" leading up to the end of January.

"Of our members who told us they were pessimistic about future prospects for the UK economy, political instability was less likely to be the main reason for that pessimism compared to the end of last year. Similarly, while inflation is still causing considerable concern, around a quarter of our members now believe it has peaked.

"However, with the index still in negative territory, this month's improvement is not enough to cause greater investment on the ground: a quarter (27%) of our members plan to increase investment in the next year but a similar proportion (25%) also plan to reduce it.

"The government needs to do more to sharpen investment incentives in capital, people and net zero in the forthcoming Budget to get our economy back on to a firm path towards growth."
The IoD Directors' Economic Confidence Index measures the net positive answers from members of the Institute of Directors to the question 'How optimistic are you about the wider UK economy over the next 12 months?' on a five-point scale from 'very optimistic' to 'very pessimistic'.