Highlights from the World@Risk Climate Change and ESG Forum
The climate crisis calls for greater multi-lateral cooperation than ever before, precisely at a time when the world is fragmenting. This was one of many challenges discussed during the opening discussion at the World@Risk Climate Change and ESG Forum, held at Savoy Place in London on 15 November.
Hosted by StrategicRISK, in partnership with the Institute of Risk Management (IRM), the forum brought together an impressive line-up of speakers from the fields of climate science, energy, aerospace, insurance, and mining, among others.
Three takeaways from the day were that we must find a collective will to adapt - and act (there is no going back), to ensure sustainability is part of an integrated risk management approach and that we have the leadership and culture necessary to succeed.
The event began with some scene-setting macro-themes, including the latest from COP27, implications of the war in Ukraine, the growing impact of extreme weather events around the world and risks associated with 'greenwashing' litigation.
Discussions moved on to consider some of the more practical steps as organisations move forward with their transition plans and fulfil responsibilities under a growing raft of climate and ESG reporting rules.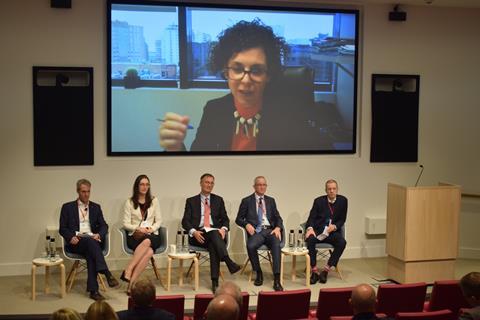 The world today
The opening panel considered 'the world today' and whether near-term concerns - such as the energy crisis - would prove a distraction from longer-term commitments.
As Europe faces a difficult winter, it is becoming apparent that countries have not been moving fast enough in their transition to Net Zero. It takes time to build the infrastructure needed to replace Russian gas with other energy sources - a process that cannot happen overnight.
Cvete Koneska, head of advisory at Dragonfly, said that climate action had to be considered within the broader economic and geopolitical risk landscape brought about by Russia's invasion of Ukraine and overall shift towards 'de-globalisation', which would probably escalate during 2023.
"It will be interesting to see how ESG comes out of these challenging times. It's a test for governments and companies in terms of how firm their commitments are and some difficult choices and trade-offs will need to be made."
While she expects to see an acceleration in investment into renewable energy, in the short-term Koneska expects to see a reversal of clean energy commitments as government focus on ensuring they have the energy necessary to get through the winter.
Restriction to Russian gas had artificially shut off access to around a fifth of the global energy supply. Despite the pain this has caused, one of the silver linings, according to Joe Rippon, financing programme manager at Sizewell C, EDF Energy, is much greater public engagement, awareness of the costs of running an energy system and that it has galvanised the will and ambition to transition more quickly.
"Governments were not moving quickly enough to get there," he said. "It should have been happening anyway and [the last few months] have proven how quickly things can move and change if there is a will to do it."
Leadership and accountability
One of the biggest risks "nobody is talking about" is the lack of leadership and culture failure, thought Cristina Martinez Garcia, group chief risk officer at SACYR. She said the current system is set up to incentivise short-termism and the wrong behaviours.
"We have all heard about the importance of setting the tone at the top and the fact that the culture of an organisation is largely determined by its leaders setting the parameters for business strategy, business plans and performance incentives.
"Leaders set the tone, not necessarily but what they say, but by what they do. We know that culture trumps compliance and strategy everyday of the week."
It is the risk manager's job is to make decision-makers "comfortable with being uncomfortable", thought Adrian Clements, chief risk officer of AT-IPIC.
"One of my takeaways from this forum is there is too much focus on compliance. Too much focus on, 'I will wait until my government or auditor says: This is what you need to do - so I've got time'. What happened to leadership? I should be doing this anyway."
"The typical business model people are using today is 20 years old and looking into the future is not on their agenda. We're using a model that doesn't work anymore."
It is natural that decision-makers are more concerned about things that are closer to them than a long way away, thought Mark Boult, director of Boult Consulting. Changing this will mean adapting risk appetite, culture and governance structures so that adequate focus is placed on future risks.
"The risk manager needs to get people to look forward and to start to weight some of these matters in the future more highly than we would do naturally.
"If you consider that one tonne of carbon released today requires you to take out six tonnes in 2050, it is clear we need to start to overweight some of these future things, where the costs to rectify it are so much greater than the costs to get it right first time."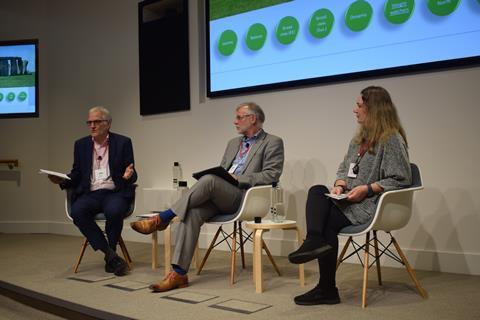 No silver bullet
Currently, there is a tendency to be reactive rather than proactive, according to Swenja Surminski, managing director, Climate Sustainability, Marsh McLennan Advantage, which she puts down to human nature.
Had European governments moved faster, the dependence on Russian gas would have been much lower in February 2022. There would be less urgency to limit global warming to 1.5 degrees C above pre-industrial levels, per the Paris Agreement.
"We tend to be very reactive and we spend a lot of money dealing with the problem once it has occurred."
"We are now having to rush through the transition and if we had started earlier, we would have had a chance to do it more gradually in a more orderly fashion. It's where we are, but it's a useful reminder why it's so challenging to achieve such a change," she said.
Having arrived back from the COP27 meeting in Sharm el-Sheikh, Egypt the night before, Surminski was clear that a shift from making commitments towards taking action was needed.
"We need systemic responses, and when we think about adaptation versus mitigation and emissions reduction it can't be either-or, it needs to be both. There's also the clear message that the climate is already changing and there are impacts already."
She noted that this summer's heatwaves and droughts in China and other parts of the world had created challenges for hydroelectricity. "That makes the transition much harder, because while we're trying to decarbonise, the climate is changing and actually it is becoming harder."
"We need to really think this through and look at the interdependencies that are there, and the resilience challenge. It's about very much adapting, about risk reduction and changing the risk trajectory that we are on."
There is no silver bullet when it comes to dealing with the climate crisis, according to Surminski.
"Did I come back from COP27 encouraged or discouraged? I'm completely aware of the scale of the challenge and it doesn't look good. But when you see the variety of different players sincerely trying to work on solutions, and trying to make money with solutions, then that gives me an indication there is a good chance that we will find a way to limit global warming. We can't avoid it."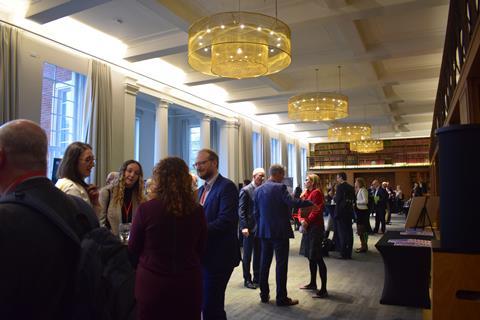 Keep your CEO out of jail
A big theme of the forum was the concept of 'greenwashing' and the amount of litigation currently taking place against companies for overstating how 'green' they are, whether for marketing purposes or in presentations to shareholders.
Nigel Brook, partner at Clyde & Co, warned the floodgates were opening where climate-related litigation was concerned, with growing implications for directors and officers (D&Os).
Australia, Europe and North America are all hotspots for such litigation, with the recent $117m settlements made by former executives of power firm PG&E to settle with the victims of devastating California wildfires a sign of more to come. The firm's directors were sued on the basis that they had known the climate was changing, making the conditions for wildfires more likely, and had not done enough to mitigate against this.
The more data that becomes available about climate change, the harder it will become for firms to defend themselves in future, warned Brook.
Greenwashing is not a new risk, thought Clive Thompson, technical director at the IRM and project director at Willis Towers Watson.
"Being misleading, or being economical with the truth is another way of putting it - Sarah [Gordon] called it lying" he said. "The science is moving so quickly that in fact if you don't keep up with it then you will be caught lying."
But this is no reason for 'greenhushing', or being afraid to speak openly about what your organisation is doing for fear it will land you in hot water.
What is key is being truthful and authentic, thought Thompson. "The risk manager has to speak truth to power and that goes to the issue of governance and under the TCFD [Taskforce for Climate-related Financial Disclosures] elements of disclosure are going to be a requirement for the largest companies."
It is becoming increasingly likely that organisations which overstate their green attributes will be found out.
"The world is more intelligent than that and we're beginning to see people asking the right questions," said Sarah Gordon, CEO of Satarla. "One of the successes of COP26 was the UK government saying we're going to make TCFD mandatory for all large companies and the rest of the world is now following suit."
"You've never seen the word 'risk' mentioned more in a document than in the guidance behind TCFD, which is great for those of us who are risk managers," she continued.
But there needs to be constant evolution with regard to reporting mechanisms, allowing people to ask the right questions based on updated science and information. "We are really beginning to get into the nitty gritty of where is the tangible action and change where we're moving things forward," continued Gordon.
"It's OK that if last year you said, 'We're going to hit Net Zero by 2030' and then you've gone away and thought, 'based on the world today we can't hit that target, we need to restate it'. There is nothing wrong with doing that. With the reporting mechanisms we've got, we're allowing the financiers and the investors to ask the right questions."
"The way to get a mining company to change, for example, is not to give them insurance or capital to do bad stuff," she continued. "But then on the flipside, if you want that company to change, we need to take bigger chances on new technology."
Time to innovate
Carbon capture and storage currently costs about $300 to $400 per tonne but it will, in the near future, probably come down to about $100 to $150."It doesn't take a huge stretch of the imagination to see that those technologies are going to become very commercially viable in the near future," said Nick Faull, head of climate and sustainability at Marsh.
"We all agree that the pace of change in terms of moving to net zero has been slower than we had hoped, but actually the pace of technology innovations have been much faster."
And there is significant scope for 'blended finance', where public or state actors combine with private sector finance to fund and enable adaptation projects, he thought.
"Do we need to move from a more growth focused to a more resilience focused economy - the answer is yes and we are already seeing that in the supply chain where we've moved from just-in-time concepts to building in resilience, because corporates have no choice."
It can't just be corporates on their own driving change, thought John Scott, head of sustainability risk at Zurich Insurance Group and there is a big role for financial services to allocate capital in the right way and to the right projects.
"Changes have to happen in the real economy and in particular in the carbon intensive sectors," he said. "Fundamentally we have to decline oil and gas and thermal coal and you can't just do it by supply constraints."
Dealing with a big global risk such as climate change requires multilateral thinking, but this is easier said than done. "We live in a world which is more transaction, more regional and more bilateral in its agreements," submitted Scott.
Insurance has a critical role to play in incentivising transition journeys and investment in sustainability so that companies can begin to take meaningful action.
One of the difficulties to overcome with innovation and new technologies is that underwriters will not necessarily have access to the range of claims data they would normally use for pricing and assessing risk.
"We need to take climate risk scores and consider how we take that into climate action," said Annemarie Buttner, lead, Climate Risk Solutions at Swiss Re Corporate Solutions. "We need to get some action out of all the data we now have access to.
"As an insurer… we can decide not to insure certain risks, increase the premium for certain risks or we can really collaborate and take the path of climate resilience together with our clients."
Meanwhile, the ability to measure transition risk can be invaluable in helping management to make decisions, and to spot pockets of risk and opportunity within a particular industry.
For the aviation sector, for instance, that might mean prioritising long-haul flight routes over short-haul, explained Joe Noss, senior financial director at Willis Towers Watson.
"Airlines whose airlines who are predominantly short haul are at a much greater risk of transition," he observed. "People will fly less on long haul [in the future], but the people who are flying don't have a train to take as an alternative. These kind of models let you see some quite granular things within an industry."
What's your sparkle?
There is a role for everyone to innovate and discover their own unique 'sparkle', according to Satarla's Gordon. It is about considering what is material to your organisation and industry sector, across the UN's 17 sustainability development goals (SDGs).
"Organisations forget to ask, 'Who are we? What's the sparkle that we can bring to the world?'
"If you are a life sciences organisation then making sure that people have access to medicine is your bread and butter," said Gordon.
"It's about asking, 'What can we actually bring to the world that allows us to move forwards with regards to the sustainability agenda'? Obviously finance is part of that but it's not just about money. The oldest millennials are now in their 40s and the younger generations really care about the environment and about society and we don't quite know how to measure those aspects, which makes it really difficult to value them."
At a time of the great resignation and people moving jobs, organisations need to think about attracting and retaining talent and whether their values are letting them down.
"We are past the tipping point of climate change," added Gordon. "We now need to ask what the world is going to look like in 2050? This is a case here where every single sector needs to be thinking, 'Where's our revolution and can we use what we are good at, in order to pay for that?'"
While the scale of the climate challenge can feel immense, corporate risk managers and their organisations should take the journey one step at a time.
Breaking an immense task into smaller component parts makes everything more achievable, according to rocket scientist Mike Lutomski, noting that we have more tools, data, science and technology at our disposal than ever before.
"Climate change is so hard to comprehend - all the facets of it - but just take one bite at a time, break into teams and solve one problem at a time - that's the NASA approach," he said.
"The fictitious character Mark Watney [from The Martian] said, 'At some point, everything's going to go south on you… you can either accept that, or you can get to work'."
"Do we have the collective will, or should we continue to play golf as the world burns?" he asked, showing a photo of golfers in Colorado with billows of smoke behind them. "This is not the time to 'keep calm and carry on'.
"We live on 'spaceship earth', which is hurling around the sun at tens of thousands of miles per hour and there's literally no place else to go."
Moving to Mars is not a mitigation strategy, the former SpaceX employee quipped.
"As risk managers we should put on our capes and get to work, charge ahead and start solving this problem. As fellow jazz musician Joan Baez said, Action is the antidote to despair."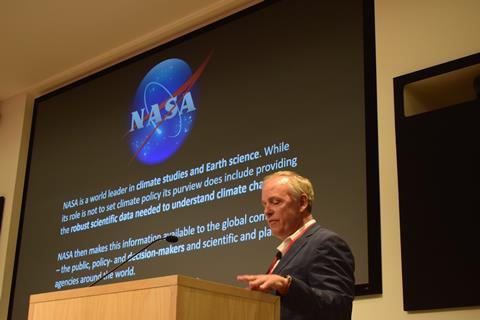 ---
Watch sessions…
THE WORLD TODAY…ARE WE HEADING IN THE RIGHT DIRECTION?
Joe Rippon, Sizewell C Financing Programme Manager, EDF Energy
Cristina Martinez Garcia, Group Chief Risk Officer for SACYR [Virtual]
Nick Faull, Head of Climate and Sustainability Risk, Marsh
Cvete Koneska, Head of Advisory, Dragonfly
John Scott, Head of Sustainability Risk, Zurich Insurance Group
KEYNOTE: AN UPDATE FROM COP27
Swenja Surminski, Managing Director, Climate Sustainability, Marsh McLennan Advantage
THE JOURNEY TO SUSTAINABILITY
Interviewer: Gareth Byatt, Independent Risk & Resilience Consultant
Sarah Gordon, CEO, Satarla
IT'S NOT EASY BEING GREEN
Nigel Brook, a partner at Clyde & Co LLP
Clive Thompson, Technical Director at Institute of Risk Management and Project Director at Willis Towers Watson
ADAPTATION TO CLIMATE CHANGE
Mike Lutomski, rocket scientist and risk management expert formerly at NASA and SpaceX
PRACTICAL STRATEGIES IN MANAGING CLIMATE-RELATED RISKS
Martin Massey, Chairman, IRM Climate Change Special Interest Group
Laurent Sabatié, Co-Founder, Executive Director, Skyline Partners
TAKING CONTROL OF CLIMATE RELATED RISK
Abhijit Akerkar, Head Risk Services Corporates, Swiss Re Corporate Solutions
QUANTIFYING CLIMATE CHANGE RISK
Joe Noss, Senior Financial Director, Willis Towers Watson
Annemarie Büttner, Lead Climate Risk Solutions, Swiss Re Corporate Solutions
WHERE RISK MEETS SUSTAINABILITY/ESG
Mark Boult, director, Boult Consulting
Adrian Clements, President, AT-IPIC
---