The influx of alternative capital has ended cyclical insurance pricing, according to experts at yesterday's panel discussion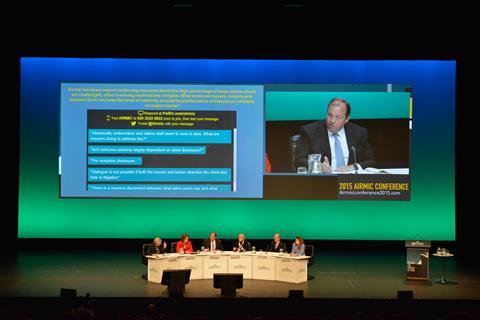 The traditional insurance pricing cycle between hard and soft markets is over owing to the influx of alternative capital in the industry, according to industry chiefs.
Speaking at the panel debate on the future of insurance and the consequences for corporate clients at the 2015 Airmic conference in Liverpool, Arthur J Gallagher chief executive Grahame Chilton said: "I don't think the rating cycles that we have had historically will continue."
He explained that insurance had become a new asset class and that this was not going to change. "Even if a series of major catastrophe losses were to occur, I don't believe we will see the cycles that we have seen before."
New capital
Willis Group deputy chief executive Steve Hearn agreed and pointed out that the new capital was sufficiently dedicated not to be put off by recent big catastrophe events such as the Christchurch earthquake in New Zealand in 2011.
"This capital has arrived at a period of extreme loss," he said. BP head of insurance risk solutions vice-president Lesley Harding argued that the sector would receive more external capital until those investors find a more profitable area.
The session was chaired by broadcaster Jonathan Dimbleby. Other panellists included Lloyd's chief executive Inga Beale and AIG Property Casualty EMEA chief executive Seraina Maag.
Risk modelling tools
Responding to a question from the audience as to whether risk models and algorithms could threaten traditional underwriting, Beale said underwriting would always have a future in insurance despite the growth of risk modelling tools.
Beale said: "I grew up as an underwriter and I remember that, when I started in the 1980s, we didn't have a model, a spreadsheet or even an actuary in the house. It was a very different world."
Beale added that models and algorithms have since become a valuable tool for underwriters. She said: "For the specialist risks particularly, and I know a lot of you in the room will be very interested in those, I believe that human element is necessary and that underwriting – that piece of art – will still prevail."