The French president took the stage in Davos to rebrand his country's investment profile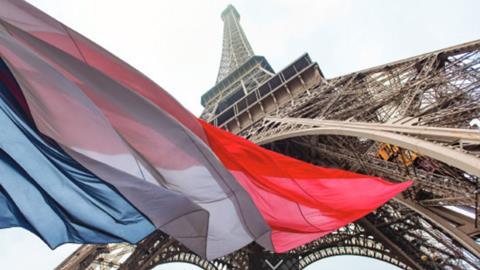 "France is back at the core of Europe", declared Emmanuel Macron at the yearly World Economic Forum (WEF) in the Swiss Alps.
A former investment banker himself, Macron promised the French people (ahead of his election in May last year) to renew and reform the French economy.
The first signs sound promising. The French economy grew by 0.6% over the last quarter of 2017 and by 1.9% over the whole year, according to the latest calculations of the INSEE (Institut national de la statistique et des études économiques).
These results are however still below the eurozone and EU28 average of 2.5% per year growth.
Charm offensive
The President kick-started the year by inviting 140 international business leaders to the Palace of Versailles for a "Choose France" summit, ahead of the WEF meetings between world leaders in Davos.
American and Asian multinationals were present. Big names of the financial services industry attended the business summit – Brexit being among the reasons.
Paris won the EU agency for banking from London, beating competitor Frankfurt in November. The French capital is investing in new infrastructure to receive more expats from the city of London, who are considering leaving the UK after Brexit.
Several firms confirmed their intention to further invest in France.
Japanese carmaker Toyota said it would increase capacity at its northern French plant which would approximately add 800 new jobs.
Facebook's Sheryl Sandberg said the online firm would double staff and add an extra €10m into its artificial intelligence hub in Paris.
Reform and taxes
Since his election, Macron has sought to reform the economy and encourage business growth. After amendments to the country's rigid labour laws, he also cut the fortune tax and replaced it by a tax on real estate.
Cuts to corporate tax rates and government spending are supposed to come next. Analysts are convinced Macron will continue to pursue reform into 2018 to enhance productivity and competitiveness, which has been low despite new foreign direct investment, especially compared to some European neighbours. France accounted only for 12.9% of the continent's exports last year, down from 17% in 2000.
Whether Macron will succeed in his PR push remains to be seen. Unemployment in France still fluctuates around 10%, much higher than the average in Germany or the UK.
The business-minded president still needs to assure voters that the tax cuts he is implementing are not simply a giveaway to the wealthiest in society but will result in a more attractive investment environment.
In his Davos speech, Macron emphasised he expects corporations and politicians to avoid a "race to the bottom" on taxes and trade standards, prompting them instead to embrace global governance on climate issues and inequality.
"We need to be more ambitious," concluded Macron.
He also had encouraging words for responsible risk takers: "In France it was forbidden to fail and forbidden to succeed. Now it should be easier to fail, take risk, but allow people to come back and try something else. When you take risk, you need reward, and you need to reduce the cost of failure."
France's reputation on the international stage has increased since Macron's victory, defeating right wing nationalist Marine Le Pen. According to its president, "Made in France" is on road to revival.
By Claudia De Meulemeester