Rogelio Bautista Guardeño was Spanish company Abengoa's first risk manager. Now he's one of the few in Europe to really evolve his role beyond buying insurance. Is it time the rest caught up?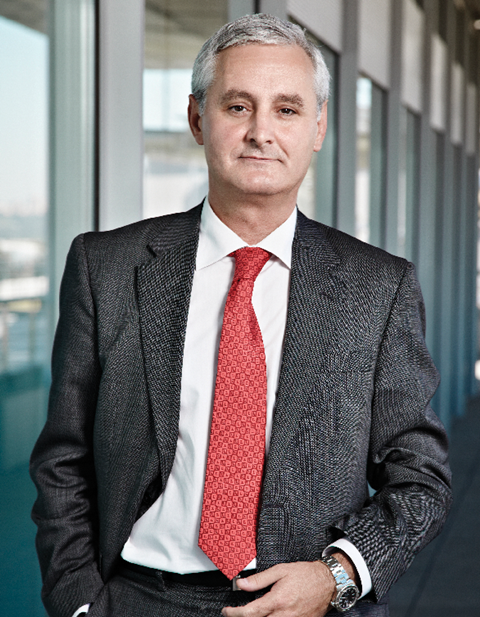 As the problems and limitations of Europe's economy become increasingly obvious, companies are looking to strengthen their presence in developing markets. With its links to South America and proximity to North Africa, Spain's multinationals are particularly well positioned to increase their business in a variety of burgeoning economies. StrategicRISK spoke to Spanish company Abengoa's senior risk manager, Rogelio Bautista Guardeño, to get an insight into risk management in Spain and doing business in developing economies.
Bautista has been working for Abengoa, which is a large multinational with major interests in the engineering, telecoms and energy sectors, for the past 20 years, and in 1998 was given the task of setting up a risk management department at the company. "I think I was chosen because I had the right management experience but also because I had an education in law, was technically minded and understood the engineering industry," he says.
"From the beginning, our idea of risk management was not related to insurance, it was to analyse and understand our political, financial and regulatory risks. The chief executive wanted someone who could analyse contracts, agreements, joint ventures, clauses, responsibilities and so on.
"At the beginning it was me and me alone, but now we have 35 people working in the risk management department."
There is a strong community of risk managers in Spain: members of Spain's risk management association Igrea include major companies such as Telefonica, Endesa and Ferrovial, as well as Abengoa. "It's the same level as communities in other European countries," Bautista says. "However, what we lack is the step towards having a chief risk officer [CRO] approach to the industry."
Companies have to have a global vision, but they can't forget the importance of having a local perspective."
As in some other parts of Europe, risk management in Spain is still developing and Bautista believes that it has some way to go before it reaches US standards. "When we started in 1998, risk management was recognised in Spain's business community. However, even nowadays the role of risk management in this country is mainly limited to insurance management. I think this is the same for most of Europe. For example, when I go to a Ferma forum the majority of my colleagues will have insurance management as their main activity, but when you go to North America there are a lot more risk managers who are working with the kinds of ERM [enterprise risk management] concepts that we use at Abengoa.
"My role is more akin to that of a CRO than a risk manager in the traditional sense of the term. I think that Abengoa is probably the only company in Spain where the risk management department engages in all these kinds of activities."
Change from the top
Throughout the interview, Bautista emphasises risk management as a means of improving business efficiency and profitability, and not solely as a means of mitigating risk. He believes that business's perception of risk management still needs to change. "It's true that there are a growing number of people who understand that risk management is something that adds value to a company. However, only a few years ago it was still seen as a process that was there solely to protect assets and responsibilities, not to anticipate possible risks or improve the company."
Bautista obviously believes passionately in the tenets of ERM, but he realises that these cannot be achieved without the support of the board and an effective company-wide risk management culture. "The most important thing I've learnt is probably that you cannot achieve real risk management if the executive branch of the company is not convinced; risk managers need the support of the board to do their jobs effectively.
If risk management comes from the top down, 75% of the battle is already won."
"The most important lesson for me is that risk management has to come from the top down and not from the bottom up. If risk management comes from the top down, 75% of the battle is already won," says Bautista.
For him, the board's support is often the limiting factor in the development of the risk management industry. "When you talk with other risk managers they say that risk management is evolving and that's a good thing. But, in reality, if the awareness and support of executive management is not increasing, risk management cannot develop effectively," Bautista says. "There are many great people working in risk management, people who have great ideas and who have the intention of developing the discipline of risk management. But companies' boards need to give more support to these kinds of individuals."
"The second valuable lesson that I have learnt," he continues, "is that risk management has to be a function that forces the risk manager to understand all of the process, functions and staff of a company. Risk managers have to have a very broad perspective; you can't simply be an expert in insurance. I often say that the risk manager should be an expert in how to not buy insurance - ideally they should know how to manage risks without paying for them. Of course, you need to know how to buy insurance, what kind of insurance policies there are in the market, what kind of risk you are able to protect with an insurance policy, but this is the second step. The first step is to manage all other options."
CV
1977-82
Law studies at Granada University
1988-91
Manager at Vivendi
1991-98
Manager at Abengoa
1993-95
Postgraduate studies in business administration and human resource management at IEJ
1998-present
Risk Manager at Abengoa
2010-2011
Programme for leadership development, ESADE - Loyola
In order to establish a risk management culture within the company, Bautista employs a variety of methods to educate his staff. "We have several internal procedures and we have an internal manual on risk management that is transmitted to all employees in the company. For example, for 10 years now I have been organising training in risk management not only for the risk management or insurance team but also commercial people, technical people and the management team.
"The important thing is that the entire company understands your philosophy and your practice of risk management. We have this kind of training online, so all the employees of Abengoa have to complete a test in basic risk management procedures. We do these tests with our staff here in Spain, but also in Brazil, China, Mexico and the USA."
Staying ahead of the crisis
Like the rest of the business community, Bautista believes that the economic crisis presents risk managers with major challenges.
"I believe we are in a critical time. I believe that we are in a time when dynamics are changing, there are lots of different pieces that are moving and changing place. For example, you have the Arab Spring and various economic convulsions. I think that risk managers are obliged to understand the implications of these events and also to raise themselves above, to have a more objective view of the situation.
"We have to be able to see the events from above so we can anticipate the consequences and protect our companies. You have to have a global perspective of the situation and be able to react very quickly to changing factors. I think that this is the most critical economic situation in my time as a risk manager."
However, Bautista is confident that the diversity of Abengoa's markets will allow it to insulate itself from the effects of the debt crisis threatening to engulf Europe, and southern Mediterranean countries such as Spain in particular. "Abengoa isn't significantly affected by the European debt crisis because we have a good diversity of business activities - that's to say that approximately 40% of business is in Spain and the rest of the activities are in other countries. I think that diversified companies in terms of geography and activity are better equipped to deal with this crisis."
Although developing economies represent the future for many companies, breaking into new markets is fraught with risk. "One of the most important risks in these kinds of countries is regulation; the second risk is financing because nowadays there are several restrictions in financial markets, and for this reason companies need to be sure that they will have enough financial resources to carry out their project. Another risk can come from working with local partners, so companies need to choose the best, because if the deal falls through you will assume the whole responsibility including the responsibility of
the local partner."
Abengoa isn't significantly affected by the European debt crisis because we have a good diversity of business activities - approximately 40%of business is in Spain and the rest of the activities are in other countries."
For Bautista, the mistake many multinationals make is to manage their business in developing countries remotely. "In my opinion, one of the mistakes a risk manager can make in this context is to make a decision in Brazil from their own office in, for example, Spain. You have to travel to Brazil, you have to know perfectly how to do business in Brazil, how people do insurance, how the government works.
"Companies have to have a global vision, but they can't forget the importance of having a local perspective. For this reason I travel a lot, because I need to know the situation in Brazil relating to brokers, regulation and authorities; the same goes for the USA and China. We have to understand the situation perfectly and sustain our understanding, and this doesn't happen if you just sit in your office."