The bomb went off right outside Royal Insurance's regional office building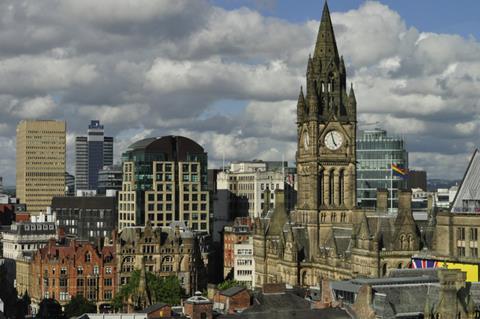 On Saturday 15 June 1996, a huge terrorist bomb exploded in Manchester city centre. The blast was the biggest explosion in the UK since World War II. Remarkably nobody was killed, but the bomb injured several people and caused widespread damage.
The explosives had been packed into a truck parked in a street directly outside the regional offices of Royal Insurance. Airmic deputy chief executive Julia Graham was head of risk at Royal Insurance, having taken up the position based in Liverpool several months before. Prior to that she was head of regional services for The Royal in Manchester, and she did not expect to be heading back to Manchester so soon and for such devastating reasons. Here she describes what happened and how the event turned her into an evangelist of resilience.
"The bombing in Manchester in 1996 was not the first time the city had been targeted by terrorists, who had also struck in 1992. Since then the city had been on alert. The 1996 bomb went off right outside our building. The police showed me security footage of the impact of the explosion on the building. The outside wall went in and out from the effects of the blast, which travelled through the building, bending the wall as though it was made out of plastic.
"Even though it was a Saturday morning we had 34 people in the building, Longridge House, and they were all injured. Nobody died, but we did have people who were very badly hurt – physically and mentally. A key lesson was that you have to plan for an event at any time – disasters rarely strike when you might expect them to.
"Lives were saved because we had done a number of old-fashioned things such as putting security film on the inside of the windows, which meant none of them shattered. One employee was thrown across the room with a huge pane of glass on his chest. As he flew through the air he thought he was going to die, but when he landed the glass did not break because it was held together by this film.
"Our big asset in dealing with the aftermath of the Manchester bomb was that we had a fantastic team who knew what they were doing and felt totally empowered. We had an inspired team who felt they had the authority to recover the business – and they did. It was extraordinary. The most junior person in the response team ran the budget and would not allow anyone to pay for anything unless they had prior and proper approval. They also acted as liaison with insurers and loss adjusters – he'd been in my newly formed risk management team for just a few months.
"We opened our switchboard in the Liverpool HQ of Royal Insurance on the Monday after the bomb and many people who called us that day had no idea that we had been affected. People seemed surprised that we had not been impacted– even though our building had been badly damaged and was inaccessible.
"We used a prearranged office recovery site with Sunguard and commandeered space in Liverpool. We had two businesses in that building – we put one with Sunguard in Warrington and the other we moved by coach daily – but in both cases, only when we had something for people to do. We waited for the supervisors to work out what they were going to ask people to do and then made sure we had the technology in place to do that. But the first thing we put in place was the switchboard, because in those days the internet was still in its infancy and most people contacted you by phone.
Electronic claims system
"At that time many of our records were on paper and we had an enormous archive stored in the office and the basement. However, we had a new claims system based on scanning technology that held the documents on the mainframe. Almost all documents received had been scanned at close of business on Friday. This allowed us to ship work anywhere in the country that had similar equipment and staff with relevant capabilities.
"It was the ease with which we could use the claims system for a reason we had not foreseen that surprised us all. We moved some of the Manchester team with the work and staff in other regional locations reached out with offers to help do extra work. It was a real team effort.
"So we redistributed the work electronically. We didn't lose any claims records, just some post.
"Despite the changes in technology since 1996, a lot of the lessons learned from the Manchester bombing still apply today. For example, if I could choose between a highly detailed and amazing plan and a good team, I would pick the good team any day, because you never know how an incident is going to unfold and I can tell you it will not be as you imagine. Therefore, you need a team that can think on its feet, and the most important person is the team leader. If you have great leadership and a good team, you can deal with almost anything.
"It sounds obvious now, but you need to know in advance who your team are because you need to document them and their roles in the plans and rehearse and test. You need a top team that is able to do anything and can deal with the impact of any disaster.
"Disasters never happen when you expect them to. But five years later when 9/11 occurred we had plans in place across the world that swung into action."