Republican candidate calls Iran "the most destabilising nation in the world"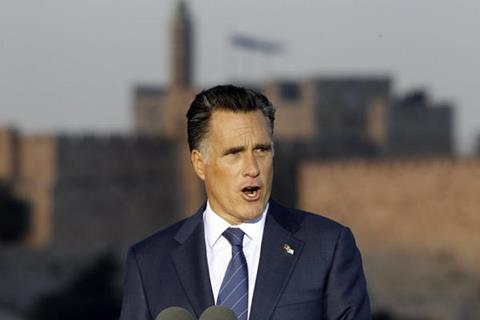 Republican presidential candidate Mitt Romney has claimed that the US has a moral obligation to prevent Iran from building nuclear weapons.
Speaking during a visit to Jerusalem, Romney said that Iran was "the most destabilising nation in the world", and insisted that the US had "a solemn duty and a moral imperative to deny Iran's leaders the means to follow through on their malevolent intentions".
During his speech, Romney claimed the US was right to stand with Israel, and recognised their right to defend themselves.
"They want to know who will object and who will look the other way," he said. "We will not look away nor will our country ever look away from our passion and commitment to Israel."
In a move that distanced him from US President Barack Obama's use of sanctions and non-military means to deter Iran from building nuclear weapons, Romney claimed the US should "employ any and all measures to dissuade the Iranian regime from its nuclear course", adding that Obama had supported Israel's enemies.
Earlier in the day, Romney held talks with Israeli Prime Minister Benjamin Netanyahu and President Shimon Peres. Speaking about Iran's development of nuclear weapons, he said that he shared Israel's concerns, and that "the threat it would pose to Israel, the region and the world is incomparable and unacceptable".
Romney also referred to Jerusalem as the "capital" of Israel, a comment which chief Palestinian negotiator Saeb Erekat called "unacceptable", adding that "Romney's declarations are harmful to American interests in our region, and they harm peace, security and stability."
What impact could a Republican victory in November's US presidential elections have upon Iran's nuclear programme and tensions between the two countries?
Have your say using the comment box below.