Almost 9% of all lending risks not being recovered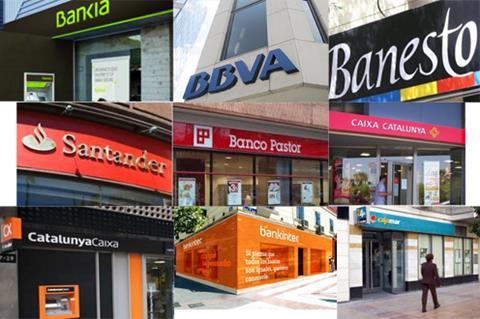 Spain's banks held a total of £156bn euros in potential bad loans in May that risk not being recovered, according to the Bank of Spain.
The amount is more than 4.5% higher than the total amount on the books in 2008.
The figure comes in the wake of last month's 100bn euro bailout of Spanish banks by eurozone countries, in which risky loans were put into a "bad" bank, and will further underline the weak position of Spain's banks.
Spain's unemployment rate of 24% - the highest in Europe - and the country's property crash has fuelled much of the current financial turmoil.
In addition, an IMF report published Wednesday estimated that the euro may be valued at 10-15% higher than is healthy for the troubled Spanish economy.
"Despite major policy actions, financial markets in parts of the [eurozone] remain under acute stress, raising questions about the viability of the monetary union itself," said the IMF Economic Health Check.
There were also indications that the cost of Spanish borrowing is on the rise, as the yield on 10-year bonds increased by 0.13% to 6.84% - a figure approaching the 7% threshold for sustainable borrowing.