Production lines and power plants are now using digitalisation to predict and prevent issues before they happen, remove human error and limit costly shutdowns. Introducing: the smart factory.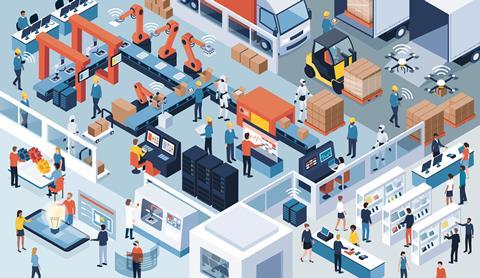 Technology is revolutionising the way we do business, with heavy industries reaping the full benefits of digitalised machinery and production processes.
From the internet of things (IoT) and automation, to artificial intelligence (AI) and big data, production lines and power plants are more technologically advanced.
Antiquated systems are being replaced with predictive technologies, manufacturing and production sites are fast becoming automated factories, and microchip sensors are beginning to predict maintenance and potential faults to machinery before they happen.
"The smart factory represents a jump forward from traditional automation to the convergence of the digital and physical worlds," says Anthony Monaghan, manufacturing and automotive industry practice leader at Marsh UK & Ireland. "A smart factory can integrate data from physical and human assets and operational processes to operate manufacturing processes, maintenance and inventory tracking."
Monaghan continues: "This increased connectivity can result in a more efficient and agile system, less production downtime, reduced human elements, and an ability to predict and adjust to changes in the manufacturing supply chain, which can lead to a more responsive operation in a competitive marketplace."
LOOK: IT'S THE FUTURE
The possibilities of such advances are endless, particularly for companies that want to steal a march on their competitors. The benefits of adopting technologies such as these can be anything from more streamlined processes to higher quality products and even better decision making. For instance, good data analytics can help an organisation predict customer demand better, meaning there's less chance of too much stock when there's low demand or not enough when there's a surge.
Another core advantage is the ability to spot problems before they become a reality. Tiago Dias, EMEA cyber consultant at FM Global, gives the example of how one client is using new innovations to help predict and prevent faults on the factory floor.
"We have a customer that is looking for increased automation, but also machine learning where the quality process is based on robots that are able to inspect the product along the production line and detect defects during that process," Dias says.
"This customer is looking at 80 control points for a single product, which means there is extreme complexity involved. The difference between using these technologies and having human intervention is the level of complexity that is involved and the ability to learn using a trial and error approach. The machines are able to be taught to evaluate for certain things that have been missed previously and ensure a continuous improvement in that process."
It's not just manufacturing that is reaping the rewards of digitalisation, either. The defence and security sector is using cyber solutions like intrusion detection systems and intrusion prevention systems to minimise the significant threats it regularly faces.
Meanwhile, organisations that rely heavily on boilers find themselves able to avoid outages that could otherwise shut down entire plants.
Dias continues: "We will definitely see more and more industrial control system devices connected. Failures in these devices can lead to an entire plant shut down, so we need to be able to anticipate issues. By using predictive analysis we can detect possible equipment failures in critical time. This is crucial."
WHEN TO GO ALL IN
Of course, some companies are faster than others when it comes to adopting new technological approaches. Indeed, many are still dipping their toes in the water, weighing up the pros and cons before they go fully native.
Hans Læssøe, principal consultant at AKTUS and former risk manager of The LEGO Group, says that the use of AI, robotics and predictive analytics is only going to grow. "I am certain more and more uses and methodologies and integration will materialize in the years to come. The more fragile or dependent on 100% uptime a process is, the greater the need for smart technologies, predictive analytics and so on."
"I foresee a higher degree of autonomy in this equipment, enabling it to detect upcoming issues before they become issues (that is, predictive analytics) and automated adjustment, optimisation, and call for maintenance."
Clearly, from a risk management perspective, being able to use predictive analysis or natural language processing to not only react quickly to interruption – but also to stop it before it happens – is a powerful new weapon in your armoury.
Danny Wong, founder and CEO of Goat Risk Solutions, says: "Big data and AI has helped to advance our understanding of how materials and combinations of materials behave, their resilience and attributes to make better quality products – this can be seen in continued improvements in batteries and reducing size of electronic devices."
As well as automation helping to reduce downtime, big data can also be a useful tool for risk managers who want to better understand their exposures and plan to mitigate against them.
Læssøe says: "Big data is just another source of facts, and predictive analytics was formerly in the risk management area known as Early Warning Indicators. These tools can improve the validity, thoroughness and timeliness of processes already established."
Wong adds: "Data and analytics can be used to model risk-adjusted outcomes, forecasts and decisions. When clients' data maturity is ready and the appetite is there, we will introduce artificial intelligence/machine learning and robotic process automation so that business decisions can benefit from the collective wisdom of internal and external data, success drivers, considerations and risks. It sounds complicated, but the technology already exists."
Of course, as with any new advancement, there are challenges alongside the opportunities, and risk managers will have to add these to the long list of factors that need their attention.
THE ROUGH WITH THE SMOOTH
One core risk is that of cyber interruption. As businesses connect more and more devices to each other, to headquarters and even to the internet, there is an increasing concern that attackers could gain access and cause real physical damage.
There are other new risks on the horizon. For instance, as more companies start to introduce technologies such as facial recognition or voice recognition (both of which have garnered attention for the airline industry recently), there are significant privacy concerns. And a connected world means that businesses need to be careful of GDPR legislation, too.
Dias explains: "Understanding data flows, understanding where data is being processed, understanding the interdependencies of systems and organisations processes and so on means it is very challenging to keep track of the huge changes that we see in a digital world."
This article forms part of our special report on digitalised industry, in association with FM Global.
Click the links below to download and view the full report.