Risk management is likely to continue to remain in the foreground for organisations with facilities or suppliers in troubled countries in North Africa and the Middle East, while in Europe measures designed to remedy national financial problems are likely to spark off further public protests and even riots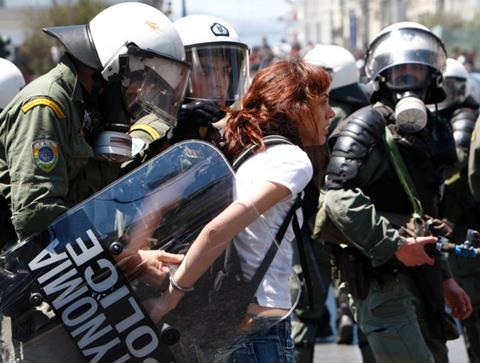 Greece is expected to make further spending cuts as one of the conditions of its bail-out package from the European Union and International Monetary Fund. Its October strikes and work stoppages in reaction to austerity measures could well be followed by more of the violent protests that began in May.
The same could be true in other European countries as governments struggle to ward off a return to recession. The French finance minister announced austerity measures in September. The UK Chancellor of the Exchequer has pledged to continue the country's fiscal squeeze, despite the fact that unemployment has risen to a higher level than the country has seen for 15 years. Spain and to a lesser extent Italy have both seen protests against cuts in spending.
With no immediate likelihood of an improvement in the European financial situation, there could be a number of disasters waiting to happen as disaffected citizens take to the streets. Further afield, political problems and protests continue in countries such as Egypt, Saudi Arabia and Syria, with the danger that these will spread to other territories.
Chris Lajtha, principal of Paris based Adageo, an independent risk management resource, comments: "The likelihood of civil commotion and/or rioting is determined largely first by the hardship (real or perceived) felt by various segments of a given population, and second by the availability and accessibility of channels to voice discontent/demands for change.
"In countries in both the developing and developed world where there is a high rate of unemployment in the 18-30 year old category, there is a tendency for discontented youth to take to the streets to try to accelerate change. The same applies in the case of any social class subset that is – or considers that it is - being marginalised."
In countries in both the developing and developed world where there is a high rate of unemployment in the 18-30 year old category, there is a tendency for discontented youth to take to the streets to try to accelerate change.

Chris Lajtha, principal of Paris based Adageo
Serious social unrest is generally the result of failing government policies due to a lack of financial resources and/or a lack of political prioritisation. Says Lajtha, "In the past, government control of means of communication helped to localise or isolate outbreaks of unrest and there was more time to consider appropriate political responses. The facility to organise civil commotion and rioting – and the speed at which support can be whipped up – have been greatly increased by modern communication technology – notably social networking and internet-linked mobile phones. There is no doubt that response time has been cut to near zero these days."
Colin Campbell, head of risk management at Arcadia, believes that ideally a risk management perspective should contribute to corporate decisions on location when considering expansion into new countries and territories. "This applies not just because of factors like political uncertainties and crime but also because there may be other risks such as flood, earthquake or hurricanes," he says.
However, for many companies locations are already a fait accompli. Their risk managers at this stage cannot do much about the political and societal environment in which they operate - but they can take some precautions to protect their operations in volatile situations.
Campbell and Lajtha agree that the priority has to be protecting personnel. In a difficult situation, Campbell says that radio links and personnel alarms can help. "It's important to make sure that your staff can get home safely and brief and involve them in the measures you are taking for their welfare."
Lessons from UK riots
When it comes to riots on the streets of European capitals, there is much to learn from the recent UK experience. Retailers are at the most risk since the nature of their business demands a high street presence. Paul Hopkin, technical director of UK risk management association Airmic, says that recent events confirmed recognition that different areas require different levels of security.
Campbell comments: "Making your premises a less attractive target means good security measures –warning signs, alarms, CCTV cameras, shutters, etc – but the riots showed that it is difficult to deter people who are bent on destruction." He suggests the following strategies for retailers and others who are aware of the danger of a riot in their location:
• Make sure your security precautions – perimeter barriers, doors, gates, grilles, shutters, etc - are functioning properly and that you've tested them
• Consider temporarily boarding up vulnerable access points such as windows, and man entry points if possible
• Where possible remove combustible materials – and make sure fire risk assessments are up to date, fighting equipment is adequate and maintained, and that people are trained to use it
• Remove anything which could be used as a projectile to break windows such as advertising boards
• Consider removing high value items from display or entirely from premises
• Have emergency assistance on stand-by to help with any necessary boarding up and cleaning.
Campbell and Jonathan Clark, senior vice president of adjusters Cunningham Lindsey, agree that it is important to gather intelligence regarding a possible riot from the internet and other sources. Says Clark, "Tracking rumours and working with local police authorities to understand what is happening is key."
He points out that it may be difficult to gain access to premises after a riot is over because police may class it as a crime scene if looting has taken place, and stresses Campbell's point that it is important to have remedial contractors ready to step in as soon as access is allowed.