Demand for drones insurance is high with oil and gas and media industries investing heavily in the technology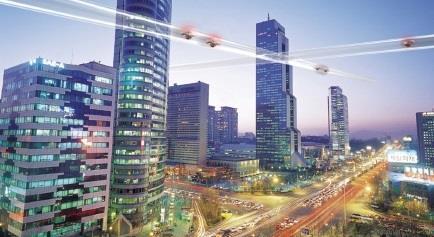 On 10 May, London-based venture capital firm MMC Ventures announced it was backing Sky-Futures, a provider of drone inspection services for the oil and gas industry.
It is the largest-ever investment in drone technology in Europe.
A UK House of Lords report has predicted the unmanned aircraft sector could create 150,000 jobs in Europe by 2050.
Announcing the Sky-Futures deal, MMC Ventures investment director Simon Menashy said: "Drone technology is an exciting area of innovation, but it's only now that we are seeing leading commercial operators emerge."
As well as the oil and gas sector, drones are being used by the military, media and sports broadcasters, real estate and agriculture industry among others. As regulations are eased drones could one day be used for everything from pizza delivery to disaster relief.
Flying cover
Several insurers have designed coverage for this emerging industry. Zurich, starting with its Canadian unit, is offering a drone package policy that will be rolled out globally based on local demand and sophistication of the regulatory environment governing drone use.
Zurich's policy was developed in conjunction with aviation risk pool Global Aerospace Underwriting Managers.
And in May, Lloyd's insurer Tokio Marine Kiln announced it would offer cover for drones in the Lloyd's market.
Tokio Marine Kiln aviation underwriter Jay Wigmore says: "From filming Hollywood blockbusters to surveying oil platforms and even loss adjusting, we have seen a dramatic increase in the commercial use of (drones), and the risk profiles of our clients are changing as a consequence."
Aerial drones can be either fixed or rotary wing. For commercial use, rotary wing craft are by far the dominant type. Able to hover and manoeuvre quickly, they are primarily used for imaging and surveillance, and offer the ability to deliver small packages.
Until recently the US Federal Aviation Authority (FAA) had taken an "incremental approach" to integrating unmanned aircraft systems.
Now the supervisor is slowly easing its strict limits on the use of commercial drones.
Insurers AIG, USAA and State Farm have been granted waivers to use drones in the US.
In the UK, commercial use of drones is permitted, subject to licensing.
More than 500 non-military entities are already licensed to fly drones in the UK, up from 120 in 2012.
Now part of the job?
The opportunities of the "new disruptive technology" has significant implications for the insurance industry, says AM Best. "Those insurers not adapting to the use of drones in their own business may find themselves at a competitive disadvantage," it warns.
"Akin to hand-held digital technology already used by some loss adjusters and property inspectors, it is likely not too far off into the future that drone operations could be an extension of their job descriptions and capabilities," it says.
"High availability and low cost make this technology even more appealing."
But the rating agency warns not to view the technology as a panacea: "Trained and certified operators are needed to pilot the units," it says.
"Their flight activities must be totally under the control of and be within the line of sight of the operator, which means that there still will be some insurance company representative present locally at the damage sites."
This article first appeared in StrategicRISK's sister title, Insurance Times