'Frankenstorm' set to cause widespread damage and disruption to major cities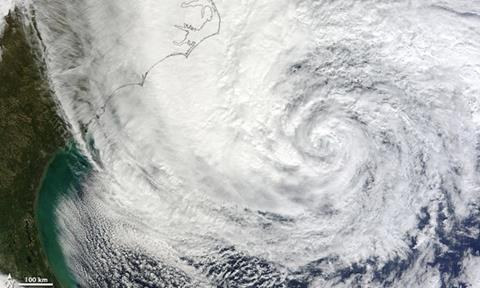 Millions of Americans are this evening [Monday] bracing themselves for the imminent arrival of one of the most powerful storm systems to hit the country in recent years.
Hurricane Sandy has been dubbed a 'Frankenstorm' because it is the sum of several weather systems.
As it approaches landfall along the Eastern Seaboard, Hurricane Sandy is expected to hit a cold front from the north which could generate floods, high winds and possibly even snow.
With the prospect of the slow-moving storm also hitting coastal areas at the same time as high tide, there is potential for large scale damage to low-lying parts of major cities such as New York and Boston.
Hurricane Sandy is set to hit the Delaware coast first as it moves northwards.
A state of emergency has been declared in Connecticut, North Carolina, Maryland, Massachusetts, New York, New Jersey, Pennsylvania and Virginia.
The US capital Washington has been affected and campaigning for next week's Presidential Election disrupted.
In New York city mayor Michael Bloomberg yesterday issued a mandatory evacuation order affecting 375,000 people, ahead of predicted four metre storm surges.
"If you don't evacuate you're not just putting your own life in danger, you are also endangering lives of our first responders who would have to rescue you," he said.
The city's transport system has shut down and the New York Stock Exchange is to close for today at least.
Thousands of flights to the USA have been cancelled as the country prepares for the worst.
Last year Hurricane Irene killed more than 40 people along the US Eastern Seaboard and caused damage estimated at $10bn.
Insurers are preparing for Hurricane Sandy to generate problems on at least the same scale.
Willis Strategic Outcomes Practice director of national property claims Dave Passman said: "Clients along the east coast should brace for a storm that has the potential to produce significant wind and rain damage. As always, preparation is critical."