How the collapse of construction giant Carillion highlighted many issues within construction supply chains, including the opaque nature of subcontractor networks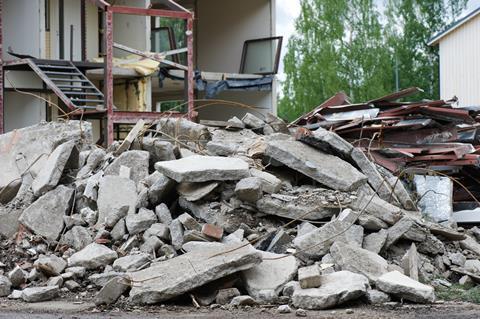 When the UK's second-largest construction company Carillion announced it was going into liquidation in January 2018, the immediate concern within the industry was the wider disruption it would cause along the construction supply chain. In total, some 30,000 suppliers and subcontractors are linked to the failed business, which combined, are owed roughly £2 billion.
At the time of its collapse the firm had been awarded a number of private and public sector contracts, including the HS2 high speed railway and London-Corby rail electrification. Some of the debts owed by Carillion - up to £31m - are expected to be covered by specialist trade credit insurance, according to the ABI. However, this is small in comparison to the £2 billion owed to creditors.
The collapse is a reminder of the importance of having an effective supply chain risk management framework and business continuity planning in place. Such an approach can include risk transfer solutions such as trade credit insurance, contingent business interruption and other specialist supply chain products.
From a macro perspective, global supply chains have become more vulnerable because of an increasing interdependency between companies and just-in-time practices. Within the construction sector more specifically, ongoing pressure to reduce costs and compete for projects has further amplified the risk. In its sigma report, Swiss Re attributes recent underlying deterioration in profitability of engineering insurance, in part, to the increased number of parties in the supply chain.
This is giving rise to an increase in claims in some sectors resulting from problems with sub-contractors, or sub-sub-contractors or sub-sub-sub-contractors. "Due to financial pressures contractors have to rely on cheaper labour from sub-contractors they contract out to, and this sequence that affect quality assurance," explains Guido Benz, head of engineering and construction, at Swiss Re Corporate Solutions.
Supply chains within the construction sector often involve a complex system of subcontractors beyond the first tier of suppliers, particularly on large projects, and it can be difficult to gain insight into this broader network of sub-contractors.
"The contractor is still ultimately responsible but how well can they manage the quality of the works that are sub-contracted?" asks Benz. "They need to find the optimal balance between getting it done as cost effectively as possible, given the pressures on profit margins for winning the account, but at the same time not letting go of the quality aspects and maintaining insight into their supply chain."
Disruption to construction supply chains can come from numerous sources, such as political risk, natural catastrophe or financial, as in the case of Carillion. "For all businesses, large or small, bad debt could easily put their day-to-day operations at risk, threatening the jobs of their employees," said ABI assistant director, head of property, commercial and specialist lines Mark Shepherd in a statement at the time. "One insolvency can risk a domino effect to hundreds of firms in the supply chain."
Having more transparency into the supply chain can help to identify, manage and mitigate some of these exposures. According to Simon Whatson, principal at procurement consultancy Efficio, "the Carillion collapse should serve as a warning to clients to review their working arrangements with contractors and ensure they have a suitable audit procedure that alerts them to financial difficulty sooner."
Ethical business practices and prompt payments within supply chains are another lesson from the Carillion demise. The UK Federation for Small Businesses (FSB) claims the construction giant was able to use its dominant position to "squeeze smaller firms" in order to mask its own financial failings. "Carillion's collapse demonstrated the urgent need… to minimise the risk of putting too much power in the hands of a few big firms," said FSB national chairman Mike Cherry.