GVNW president Alexander Mahnke sees huge opportunities in the era of digitisation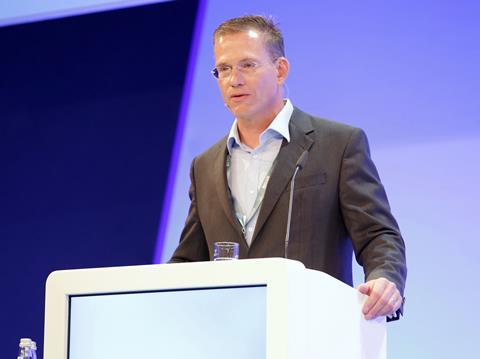 Risk and insurance managers should embrace the risks and opportunities of digitalisation and look to manufacturing and production sectors for examples of best practice, says GVNW president Alexander Mahnke.
Speaking to StrategicRISK, Mahnke says he sees immense potential in artificial intelligence, electronic data, virtual and augmented reality, blockchain and the rise of new ecosystems. The commercial insurance sector should not focus only on the risks of these technologies but also on the opportunities .
He said: "I don't see digitisation as a menace but as something we should all embrace."
Best practice
He cites the commercial insurance sector as a particular beneficiary. "The industrial internet of things provides a good opportunity for the commercial insurance sector to catch up with technology, just as the productive sectors have done," he said.
But it should be done as a partnership. "Firms and their clients must approach this hand-in-hand, in a collaborative way. In fact, it's the only way.
"I always like to use the example of how product liability developed in the early 20th century when German companies started exporting. Existing insurance models didn't fit any more in this new era and a new way of approaching these risks had to be developed. The so-called product liability model has been largely a success story, so much so that other countries adopted it."
He adds: "With the internet of things, we're seeing the emergence of new liabilities and what we've got to do is to look at current models and see what we have to do to make existing arrangements relevant."
Don't drag your feet
However, the insurance sector can't drag its feet. "Insurers are embracing these technologies at different rates, he argues. "Some are reluctant to adopt digitisation while others are investing a lot of time, resources and money in it."
Pointing to the industrial world, which has generally been quicker off the mark in spotting the potential of digitisation, he cites companies such as Maersk. Recently, the shipping giant has installed blockchain into its entire logistics operation and has started testing the technology for its insurance operations. Similarly, some insurance firms are tentatively moving towards blockchain solutions which is seen as a way of automating processes and making them more efficient."
But are there dangers in embracing such dramatically new solutions? "I don't think there's a risk in being first as long as others understand what you're doing," Mahnke said. "After all, these are mostly not patentable technologies."
Overall, he gives the German commercial sector good – but not top – marks for adopting digitisation. "I believe this is the future of German industry – but my personal opinion is that we could and should do more although you can always say that."
Return on investment
By way of example, he cites the measurable returns that are lying on the table from the so-called "virtual twin" technology being adopted in the construction industry. The technology creates a phantom version of the real thing, such as a large vessel, before it's built. "The virtual twin helps save three or four steps in the production process in industries like shipping or automotive," he explains.
Yet exciting as digitisation is, risk managers and the insurance industry continue to face conventional risks, such as the environmental disaster that has hit Kerala in India with heavy loss of life and economic damage. The unprecedented floods serve as a reminder that operational threats should remain high on the agenda.
"The risk of a natural catastrophe hitting your production site and negatively affecting your supply chain has never been greater," Mahnke points out. "For risk managers it's all about understanding and mitigating the risk before you can start insuring it. That must be their top priority."
So new risks emerge – and others remain.