Airmic's CEO is keen to focus – among other things – on broadening the membership of the UK risk managers' association to include more mid-size firms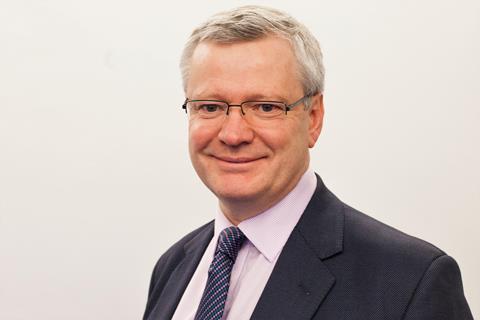 John Ludlow is keen to reflect the priorities of a changing risk landscape. Business models can be trashed in seconds by the viral connectivity of social media disgrace or the omnipresent threat of cyber-attack. Companies are fragile, perhaps now more than ever before, and Airmic's CEO is keen to address these vulnerabilities to what are commonly called intangible risks.
The former risk head for InterContinental Hotels Group describes the context for making business plans in 2018. Brand reputation, and precious data and systems, are the new treasure to guard, and they are much more fragile than bricks and mortar.
"Globalisation and technology are driving business model disruption," says Ludlow. "We're seeing massively increased levels of business connectivity. The value of the business is more reflected in intangible assets rather than, as has historically been the case, by tangible assets. Future cash flows and brand value are also more dependent on data systems than on any tangible assets.
"All of that makes firms more fragile. They can be destroyed very easily. There is greater need for resilience and agility in our business," he adds.
Ludlow described a transition within risk planning, from a "1970s introspective" focus on efficiency and effectiveness, towards external threats and outside perspectives. "It's important to try to understand how the company is perceived by stakeholder groups, to close the gap between reality and what the brand is trying to be," he says.
When engaging with stakeholder connections, whether customers, investors, workers or suppliers, there should be greater efforts to collect data from those stakeholders, Ludlow suggested. Thanks to the relentless march of technology, and particularly the Internet of Things, data are everywhere and more plentiful than ever before.
In response, he says a priority has been to reassess members' needs, to inform projects at Airmic, something which Ludlow thinks was "long overdue". Last summer Airmic wrote to as many stakeholders as it could – members, partners, service providers and associates, as well as Airmic's own in-house secretariat – to find out what makes them tick.
"One was to develop techniques for intangible, complex and connected risks," says Ludlow. "We're looking at a profession in transformation here. I wanted to get to grips with the reality of Airmic today and where people think we ought to be heading. We're thinking through all of the activities we do: what goes well; what could go better; and why we do things."
That recent process has come out with three specific aims, he says. The first of these, he says, is to deepen Airmic's membership beyond its present pool of companies and improve engagement with individuals.
"Members ought to be at the heart of everything," Ludlow says. "We want to look at some middle market groups we currently do not reach. Risk management is too often seen as just for the big companies, but the mid-market is taking it very seriously, and we want to support them."
For many such smaller firms, the risk manager role is a part-time job, and may be held alongside other roles, such as company secretary or chief financial officer. This is the simple reason Airmic's members are disproportionately drawn from the biggest firms.
To help with building links to the risk function at mid-size firms, Ludlow suggests Airmic should work a force multiplier. This might mean partnering with a body like the Confederation of British Industry (CBI), Ludlow suggests, as the CBI's reach means it can easily reach out to further trade groups.
His second and much more specific aim, is to diversify engagement with sponsors and broaden that sponsor base, stresses Ludlow. He suggests this is in line with a desire to embed insurance and risk transfer matters within the broader risk management context. "We're about solving business problems; we're not a channel for insurance product and services," he notes.
This involves "de-siloing teams' relationships with partners". He wants to grow relationships with a broader panel of partners. These, in no particular order, include specialist risk management consultants, risk technology vendors, companies focused on people and talent, cyber-security experts, specialists in financial instruments and financial risk management, and specialists in physical security and health and safety.
The third aim is more introspective: look directly at Airmic's in-house capabilities and develop the business model. He wants to revitalise its special interest groups, for example. "We've been working out where pinch points are and reorganising or adding a little resource here and there to work a little better," Ludlow adds.
Member journeys
As part of efforts to improve engagement with Airmic's members – as well as deepen the pool – Ludlow suggests that a lot of thinking has gone into understanding not just what topics need addressing, but the "member journey": from university graduates, to reaching management positions, to senior leadership within their organisation.
To aid continuous professional development, he points to working with professional intuitions on qualifications, as well as work done with the Cass Business School. Ludlow says Airmic is now talking to six universities to inspire youngsters to join the risk management discipline, gain qualifications within it, join fast track initiatives, and shape academic curricula. There is also the Airmic academy programme, which Ludlow says offers "deep dives into topics like cyber and political risk", in addition to workshops focused on many other topics.
There is also the risk leadership programme, developed with Cass, focused on about a dozen people, aiming to nurture future risk management leaders. Ludlow stresses the need to develop business acumen within risk management, as well as "to talk and to lead" like business people. "Staying in a silo of technical understanding of risk and insurance is not going to engage well with the business," he warns.
He continues: "You can teach people leadership. Many professions face this same challenge. Engineers and technologists need leaders. Previously we haven't focused enough on developing leadership, but that's changing. We need to drop the idea that you're a risk manager and not a leader," says Ludlow.